With so much bitterness and border tension between Hindustan and Pakistan, a Pakistan-born travel vlogger Abrar Hassan undertakes a motorbike ride across a part of incredible India to fulfil his long-held dream.
It is worth mentioning that for his month-long journey in India, the travel vlogger articulate and soft-spoken Abrar Hassan and his BMW motorbike named Rangeeli. On this journey, Abrar was accompanied by a shy and quiet Indian biker Karthegan Padmanaban from Namakkal (Tamil Nadu), India. Pakistani-born Abrar Hassan is presently based in Germany.
Abrar is a German National of Pakistani origin, as per the statements made on his vlog posts. In case you check his travel-story videos on YouTube (links shared below), then you can see why Abrar is so popular among his subscribers – primarily belonging to Hindustan and Pakistan nations.
---
Abrar Hassan:- His first day in Kerala, India (Video)
---
Abrar Hassan:- When he arrived in Kerala from Dubai
Abrar reached Kochi in Kerala state, India from Dubai to kick start his journey in India. On this road trip, Abrar and his Indian travel companion Kartegan undertake a motorcycle tour from Southern India to Northern India.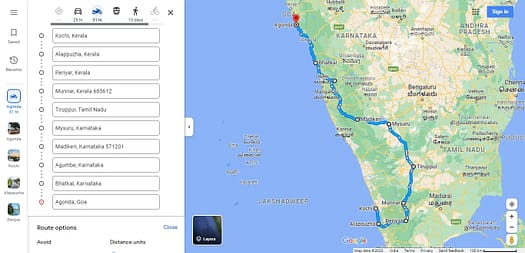 He has posted travel-vlogging videos on his YouTube channel "WildLens by Abrar", episode-wise; in addition, he has shared a few posts on his Instagram and Facebook pages too. We have shared their links in this article.
After trying to get a visa for years finally this time I made it and not only me but also Rangeeli.

Abrar Hassan
During his stay in Kerala, he explored the spectacular backwaters in Alleppey and incredible tea plantations in the rolling hills in Munnar – one of the most beautiful regions in the Western Ghats of India. Then he travelled to Tirupur city (Tamil Nadu) famous for textiles for the overnight stay. Later he reached Mysore and explored its world-famous Mysore palace in the city. From Mysore, he biked to Coorg and had a flat tire in the middle of nowhere.
Next, he undertook a trip to Coorg's famous Mandalpatti mountain. While on a ride to Agumbe, which boasts a famous national park known for its King Cobras, he and his travelling partner took a turn towards the beautiful coastal town of Udupi. Along the coastal road towards Bhatkal and Murdeshwar, they visited and explored some of the most beautiful and pristine beaches of Maravanthe and Malpe beach in the Udupi district.
They also rode past the famous temples and the Shiva Statue in Murdeshwar to reach the well-known Agonda beach in South Goa.
While watching his travel videos, you will him travelling past the places mentioned in this article.
---
Abrar Hassan:- When he biked from South to North
Travelled from Goa to Mumbai to Ahmedabad and then to Jodhpur
In the second leg of his bike journey, Abrar and Kartegan travel along the Arabian Sea in the different coastal and non-coastal towns in the Western States of India – Goa, Maharashtra, Gujarat, and Rajasthan.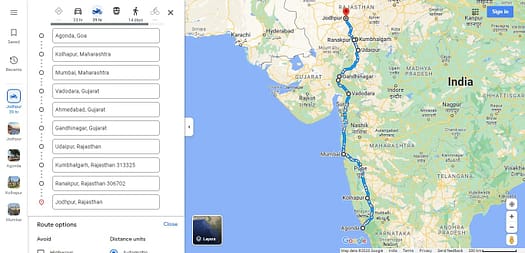 Taking their BMW bikes from Goa towards Kolhapur, they travel on the highway to reach Mumbai – the proverbial city (megapolis) of dreams. After reaching Mumbai, Abrar and Kartegan experienced its vibrant and energetic life.
Abrar's meetup (via Instagram) attracted a good crowd in the busy metropolis of Mumbai.
Yeh hai Mumbai ❤️

Abrar Hassan
They had travelled to Mumbai in Maharashtra state before the holy month of Ramadan (March 22- April 21, 2023) this year. To showcase the beauty of Mumbai in his videos, he has used drone shots from the available stock footage. From Mumbai, he biked to Vadodara (Baroda) and to Ahmedabad in Gujarat state. Ahmedabad is the first UNESCO world heritage city of India. The viewers could experience the old-world charm of these historic cities.
After bidding goodbye to Ahmedabad in Gujarat state, they biked to the neighbourhood town/state of Udaipur in Rajasthan state. On their way, they also visited one of the most beautiful Adalaj's step-wells near Gandhinagar.
Subsequently, they reached and explored the magnificent City Palace of Udaipur. However, when they were riding towards Kumbhalgarh, they got stuck in the storm. Therefore, they decided to stay back in Kumbhalgarh and thereafter, they toured the magnificent Kumbhalgarh fort and the Jain temples of Ranakpur on their way to the magnificent blue city of Jodhpur.
Along the way, they not only paid their respect to the famous Dargah of Khawaja Gharib Nawaz in Ajmer Sharif City but they also visited Pushkar – one of the holiest cities for Hindus and home of the renowned Brahma Temple.
And then he biked his way to the famous Pink City of Jaipur, the capital of Rajasthan.
Rajasthan India's largest state by area also known as Land of kings is not only home to one of the most fascinating cultural but also blessed with some of the most beautiful Forts, Palaces, Temples & Mosques. Here I'm (Abrar) standing infront of the beautiful Hawa Mahal.

Abrar Hassan
---
Abrar Hassan:- When he toured Jaipur, Agra & Delhi
Covered the Golden Triangle of India and then Crossed the Wagah Border
While watching his travel-video stories, you might notice the changing social, cultural, language, culinary habits, etc. along the motorbike roads of diverse cities of distinctive states of incredible India.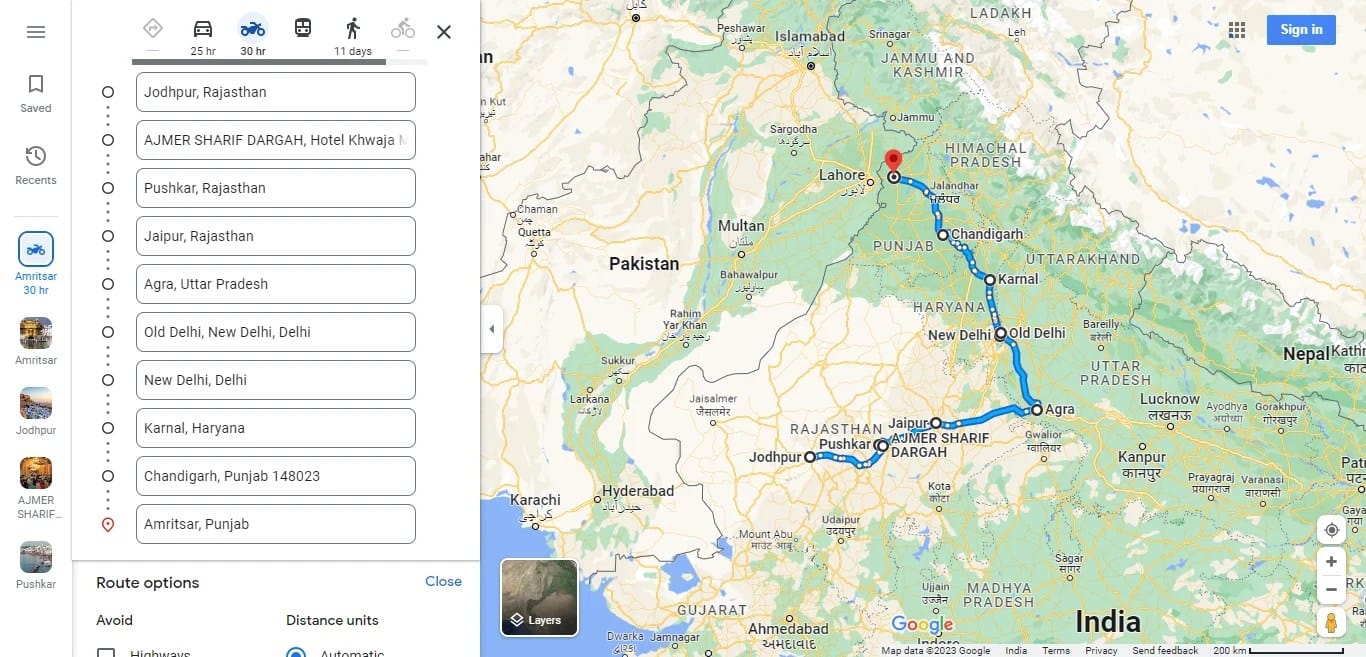 Taking a leave from the magnificent Jaipur in Rajasthan state, Abrar and Kartegan reached Agra to admire the amazing and beautiful Taj Mahal and other historical sites in Agra city of Uttar Pradesh. From there, they moved on to Delhi (the famous Dilwalon Ki Dilli ~ दिलवालों की दिल्ली) – the historical and the capital city of India. In Delhi, Abrar visited historical monuments like the Tomb of Humayun, Lodhi Gardens, Khan Market, Chandani Chowk, acclaimed Food Joints near Jamia Mosque, Connaught Place (Rajiv Chowk), et al.
In Karnal City of Haryana, he received a very warm Haryanvi (हरियाणवी) welcome from the local bike riders and thereafter he biked to Chandigarh city – the union territory. While in the Punjab state (on the Indian side of the border), Abrar comes into his true Punjabi elements, comfortable speaking in his mother tongue – the Punjabi language, as he traces his roots to the Punjab state in the Pakistan nation.
The moment I will always remember and I wish one day we can travel freely between these borders.

Abrar Hassan
Herein he stayed overnight with an Indian Sikh Family in Chandigarh as well as later on at a village in a rural Punjab area. He also visited the splendid and revered Golden Temple in Amritsar.
---
Abrar Hassan:- When he crossed the border & reached Pakistan
Finally, he reached the India-Pakistan border at Attari Wagah on his motorcycle to bid adieu to his gracious hosts in India and cross the border into his homeland Pakistan.
After 30 days and 7000 km I finally arrived in Pakistan.

Abrar Hassan
Also, keep an eye out for the shy and silent Karthegan; as a truly professional photographer, he has captured a few amazing moments in this epic journey across different states of India. No wonder, some of the recent travel videos in India have crossed the magical figure of 1 million views on the YouTube and Facebook platforms of Abrar Hassan.
As per the information provided in his videos, Abrara has undertaken this motorbike journey within an officially given visa duration of 30 days in India. So don't forget to watch his videos on YouTube (link shared below) to find out what happens on his tour of peace and friendship in India. As his YouTube videos show, Pakistani Vlogger Abrar Hassan cherishes the awesome hospitality of Indians.
Despite all the politics and propaganda involving the two nations – Hindustan and Pakistan; mutual love and respect reside in the hearts of common people residing in both nations, as Abrar's videos show.
History has not been kind, but there seems to be hope for a better future for both nations.
Abrar Hassan – Youtube Videos | Facebook Page.
If you like YouTube videos, then check out our articles about the popular artist from the UK – Tanya Wells' videos on the YouTube platform, too.
Featured Image by Nature Photographer on Unsplash (only for representation purposes) & Other Images: Abrar Hassan – Instagram.
---