Nowhere is a Spanish-language survival film about a gutsy mother. She makes an extreme effort at survival against all odds trapped alone inside a container floating on the sea.
In this film, a metallic shipping container is a safe home for the young and pregnant mother Mia. Although, her container manages to stay afloat amid the vast and endless ocean. However, her survival is only a matter of a few days. On one of those days, her container with holes is likely to drown. And that is likely to take her to the bottom of the ocean.
So, she is heavily pregnant and caught in the middle of nothingness. Moreover, she can only be saved by herself., as there is no help in sight for her. We found some of the key elements in this survival movie to be unrealistic and preposterous. So, we have shared their details in the spoiler alerts below for your benefit only.
---
Synopsis (summary) of this 2023 Spanish movie:-
Its story is set in a dystopian future, wherein Spain has been turned into a dictatorship, where its government plans to eradicate children, pregnant women, and the elderly to deal with the lack of resources. The plot follows a pregnant woman Mia (Anna Castillo) separated from her husband Nico (Tamar Novas) while trying to flee the country to Ireland. She then finds herself trying to survive inside a shipping container in the heart of the sea.
---
Spoilers free review of the Nowhere (2023) movie:-
The basic tale of this Spanish film
This survival film narrates the story of Mia (Anna Castillo), a pregnant woman who escapes from her autocratic and totalitarian country in Western Europe. Her nation is devastated by limited resources and the problem of overpopulation. So, while escaping the authoritarian regime, she ends up stranded inside a metallic maritime container on the cargo ship, alone.
Actress Anna Castillo wore a specially made prosthetic womb for scenes in which she appears pregnant in this film.
Then on one of those days, a storm throws the container she is travelling in into the sea. After that, she finds herself stuck and imprisoned inside a shipping container floating in a raging ocean. Then another violent sea storm, Mia gives birth to her child while lost at sea. And from there, left high and dry inside the shipping container she and her newborn baby begin to struggle to survive, as she battles the grim and terrifying situations. For the sake of her young kid, attempting to survive in the middle of the unending sea is Mia's only option.
About Mia character played by actress Anna Castillo
Despite so many losses in her life, Mia's invincible and indomitable spirit comes to the fore in this movie, which has quite a few distressing scenes. Anna has perfectly played the role of this brave lady character. She owns and dominates each and every frame in this dystopian future tale with her good acting. Certainly, we have no doubt, that the lead and only protagonist Mia is admirably played by actress Anna Castillo. Her absorbing and captivating acting makes this – an interesting film to watch.
On the other hand, the roles of other characters are very short to make any kind of impression. The same is true for the role of her husband Nico played by actor Tamar Novas.
In conclusion, we can reiterate that the cinematography, direction and acting of Anna Castillo (Mia) are good. They all make you feel stressed and claustrophobic. With her acting Anna Castillo made us empathize with her trials and tribulations. She fights with great determination and intelligence to fight for her survival despite all the odds stacked against her in this film.
---
Key details of this 2023 Spanish movie:-
| | |
| --- | --- |
| Genre | Drama, Thriller, Mystery |
| Original language | Spanish (Spain) |
| Age-restrictions | A (18+) |
| Released in | September, 2023 |
| Duration | 1 hour 49 minutes |
| Writers | Ernest Riera, Seanne Winslow, Teresa De Rosendo, & Indiana Lista |
| Director | Albert Pintó |
| Cast | Anna Castillo (Mia), Tamar Novas (Nico), Tony Corvillo (Gil), etc. |
| Network | Netflix |
About – Nowhere (2023) film.
---
Poster of this 2023 Spanish movie:-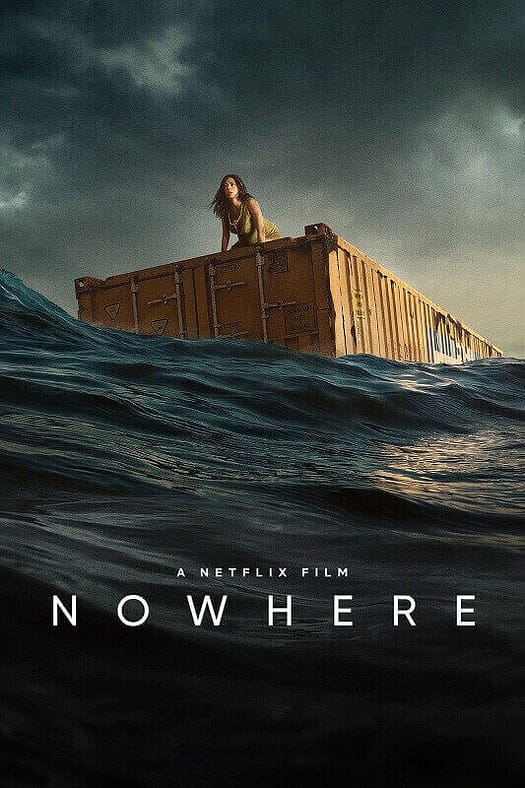 ---
FM rating of this 2023 Spanish movie:-
| | |
| --- | --- |
| FM's rating | 3.50/5 |
| FM's short comments | It revolves around the bold character of Mia and actress Anna Castillo as Mia has made this film worth a watch because of her competent acting. |
Rating – Nowhere (2023) film.
---
Trailer of this 2023 Spanish movie:-
---
Spoilers alerts – holes in the plot of this 2023 Spanish movie:-
We reiterate that despite these holes that we have discussed below, it is a good movie to watch if you can ignore and overlook certain aspects of it. After all, it is only a film.
Metallic container & ocean

In this film, the metallic cargo shipping container with many holes in it is shown to be floating on the ocean. This seems like an unbelievable concept. We have learnt that some of these large-sized shipping containers (airtight ones) might float on the ocean. But the similar container is most likely to drown, especially with the good number of holes in the sides of the container that Mia was in. We do not think that Mia's container should be floating on the sea.
Mobile phones & ocean

In this film, Mia and Nico are able to talk to each other on mobile phones, while she is trapped inside the container. We have learnt that mobile phone networks and cellular phone communications do not work inside the metallic shipping container and on the high seas.

In addition, there is also the issue of the non-charging of mobile phones inside the container. Still, we find that even in the high humidity atmosphere and without recharging her phone, Mia is able to make phone calls with her mobile phone. These seem to be unbelievable.
If you like this Spanish film, then check out this Spanish series Sky Rojo, too.
Featured Image and Poster of the Nowhere (2023) film | Netflix.
---