She Said narrates a remarkable real-life contemporary tale that exposes the dirty little slice of life in the Hollywood movie industry. This movie is based on the book by Jodi Kantor and Megan Twohey.
The complete title of their book is "She Said: Breaking the Sexual Harassment Story That Helped Ignite a Movement." As it is based on sexual harassment in real-life incidents in Hollywood, quite a few well-known Hollywood actresses like – Ashley Judd, Gwyneth Paltrow, and Judith Godrèche were the important sources for New York Times journalists Jodi Kantor and Megan Twohey's investigations into Harvey Weinstein, as each of them plays themselves in this movie.
---
She Said (2022) Movie:- synopsis
The New York Times reporters Megan Twohey (played by Carey Mulligan) and Jodi Kantor (played by Zoe Kazan) – together reported and broke one of the most important contemporary stories of recent times. Their bold news story smashed the decades of uneasy silence around the subject of wanton harassment and predatory sexual assaults in Hollywood.
Their Pultizer-winning news article forced a constructive shift in American culture that continues to this day and age of the #MeToo movement.
---
She Said (2022) Movie:- a brief review
We recommend you watch this eye-opening film if you wish to learn about the influential piece of journalism that propelled the powerful #MeToo movement in Hollywood and beyond the borders of the USA. Although it is about the sensitive topic of sexual harassment cases and some people might find it disturbing; still, we liked this film, as it chronicles an important part of recent history about the powerful #metoo movement.
In case you have read the book "She Said: Breaking the Sexual Harassment Story That Helped Ignite a Movement" by the Pulitzer Prize journalists – Jodi Kantor and Megan Towhey; and now you wish to see a well-adapted movie based on the said book.
For those of you, who is the fan of the vanishing tribe of fearless journalists and their classic investigative journalistic stories that made a difference and ushered in a positive change in society. Disturbing news stories like these drove forward the #MeToo movement forward.
It tells the present-day story of the powerful and influential Hollywood producer Harvey Weinstein, who was exposed by a great piece of investigative journalism by the New York Times journalists. Their article led many more women to come forward and speak about the sexual harassment and abuse handed out to them by Harvey Weinstein. Later on, Weinstein was found guilty of rape and sexual assault by the courts in the USA and sentenced to 16 years in jail.
The devoted fans of Zoe Kazan should see this movie for her realistic portrayal of the Pulitzer Prize-winning New York Times journalist.
And if you are a true fan of Carey Mulligan's acting chops, then you should go ahead and watch the movie based on the modern heroine tales.
The condemnation and imprisonment of sexual predators – healed many and sent out an important message to society. But, for the women folks around the world, the #metoo battle is going to be long and tiring.
It is interesting to note that even though this movie is about exposing the misdeeds of serial predator Harvey Weinstein, his name is mentioned neither on the official website nor the official trailer details on YouTube.
A testament to the incalculable importance of investigative journalism, it details the journey of reporters and editors engaged in the unrelenting pursuit of the truth and highlights the courage of survivors and witnesses who chose to come forward to stop an accused serial predator from committing further harm. Together, their commitment and fortitude sparked a global conversation, helped propel the #MeToo movement, and fueled a reckoning of the system that had enabled him.

Book website
Perhaps, it is due to all kinds of legal issues involved with his name. Anyways, this is the story that its website has shared. Despite, their limitations, the book and the film are praiseworthy efforts.
---
She Said (2022) Movie:- poster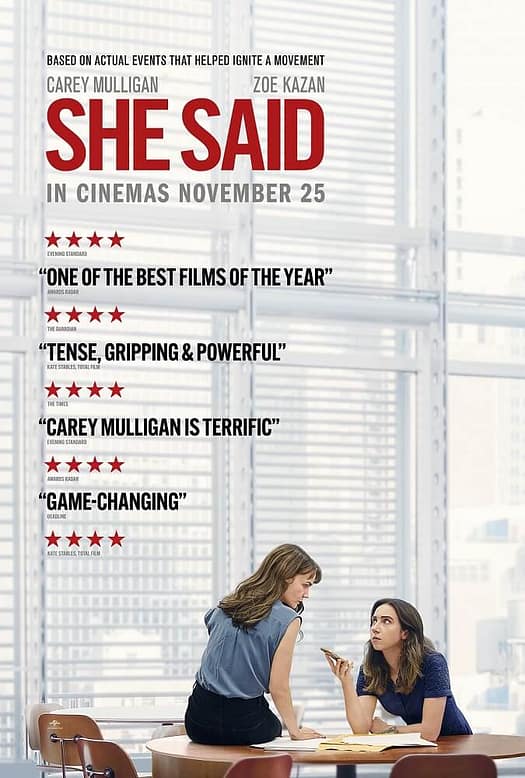 ---
She Said (2022) Movie:- details
Genre
Drama, History
Released
October 2022
Director
Maria Schrader
Cast
Carey Mulligan, Zoe Kazan, etc.
Writers
Rebecca Lenkiewicz, Jodi Kantor, and Megan Twohey.
Awards
Montclair Film Festival (MFF) – David Carr Award for Truth in Non-Fiction Filmmaking – Maria Schrader (2022)
Nevada Film Critics Society – Best Film & Best Adapted Screenplay – Rebecca Lenkiewicz (2022)
New York Film Critics, Online – Top Films of the Year (2022)
Sunset Film Circle Awards – Best Supporting Actress – Carey Mulligan (2022)
AFI Awards, USA – Movie of the Year (2023)
AARP Movies for Grownups Awards – Movies for Grownups Award – Best Ensemble (2023)
About – She Said film.
---
She Said (2022) Movie:- ratings
| | |
| --- | --- |
| FM's rating | 3.75/5 |
| IMDb rating as of the date | 7.20/10. |
| Rotten Tomatoes ratings as of the date | 88% Tomatometer & 91% Audience Score |
| Critics Consensus / Rotten Tomatoes ratings | Although this film struggles to add cinematic flair to its fact-based story, it remains a worthy, well-acted tribute to journalistic integrity. |
FM, IMDb & Rotten Tomatoes ratings – She Said film.
---
She Said (2022) Movie:- trailer
---
If you like this female-centric movie, then go ahead and read about the Barbie (2023) film, too; that deals with some of the feminism and other progressive ideas.
Featured & Other Images: She Said movie | IMDb.
---