Beef is a new series from the USA, that tells the contemporary life stories of Asian-American people. This dark comedy tells a modern-day tale about a simple road rage incident that spirals completely out of control.
Road rage incidents have become all too common around the world, however, this series takes it much further. Many might identify with the road rage story, wherein I have lost tempers on the road, with shocking results. Also, both the Internet and social media add fuel to the raging anger and animosity between the two protagonists – the two negative characters.
This beef (bickering, dispute, quarrel, squabble) leads to not-so-simple consequences for the two people involved in it and moves onto the deadly aftermath for the people involved in it.
---
Table of Contents
---
Beef (2023) Series:- synopsis
Revenge is best served raw.
A road rage incident between two strangers — a failing contractor and an unfulfilled entrepreneur — sparks a feud that brings out their darkest impulses.
---
Beef (2023) Series:- a brief review
What I really loved about this series is its excellent writing. All the characters in this show are humans to the core, with their own flaws and blessings. Sometimes, you love them for their decency. And at other times, you hate their meanness. Both the leading actors – Steven Yeun (Danny Cho) and Ali Wong (Amy Lau) have done a splendid job in this dark comedy series. By keeping the Asian actors at the front and centre of the show and avoiding the popular stereotyping of Asians, it has done a good job.
In a highly connected world and social media, people don't stop and deeply reflect on their actions. This show makes you laugh uncomfortably while taking a closer look at the modern lifestyle and its related absurdities. This tragicomedy should be watched for people with massive road rage issues and anger-mismanagement problems.
Well, those who are not afflicted with two sets of problems can watch it too, to enjoy the quality of this contemporary black comedy.
Some people are hailing this series as the best show that they have seen in 2023 – in their recent memory. In fact, this series is one of the Top Ten Series/Shows Of The Year 2023, for the first half of the year.
---
Beef (2023) Series:- details
| | |
| --- | --- |
| Genre | Comedy, Drama |
| Creator | Lee Sung Jin |
| Released | April 2023 |
| Age-restrictions | A (18+) |
| Season & Episodes | Season One (1) & Episodes Ten (10) |
| Cast | Steven Yeun, Ali Wong, Joseph Lee, Young Mazino, etc. |
| Taglines | One incident, two lives consumed. |
About – Beef.
---
Focus:- bonus info. about its episodes' titles
In a blog piece, Netflix explained that ten quotes were used in the ten-episode titles.
Episode 1: "The Birds Don't Sing, They Screech in Pain" is taken from German film director Werner Herzog's documentary Burden of Dreams.
Episode 2: "The Rapture of Being Alive" is by American writer Joseph Campbell, it is taken from his 1988 televised interview with Bill Moyers.
Episode 3: "I Am Inhabited by a Cry" is by American poet Sylvia Plath from her poem Elm.
Episode 4: "Just Not All at the Same Time" is by American feminist writer Betty Friedan, it is taken from her answer when asked during a conference if women can have it all.
Episode 5: "Such Inward Secret Creatures" is by Irish and British novelist Iris Murdoch, it is taken from her novel The Sea, the Sea.
Episode 6: "We Draw a Magic Circle" is by Swedish filmmaker Ingmar Bergman, it is taken from his film Through a Glass Darkly.
Episode 7: "I Am a Cage" is by German writer Franz Kafka, it is from his collection of aphorisms The Zürau Aphorisms.
Episode 8: "The Drama of Original Choice" is by French philosopher and feminist writer Simone de Beauvoir, it is taken from her book The Ethics of Ambiguity.
Episode 9: "The Great Fabricator" is by French philosopher and political activist Simone Weil, it is taken from her book Gravity and Grace.
Episode 10: "Figures of Light" is by Swiss psychologist and psychiatrist Carl Jung, it is from his book Alchemical Studies, Volume 13.
All of these famous ten quotes inspired each episode of this series. These quotes referenced influential texts and films to help describe the unhinged behaviours of his characters.
---
Beef (2023) Series:- poster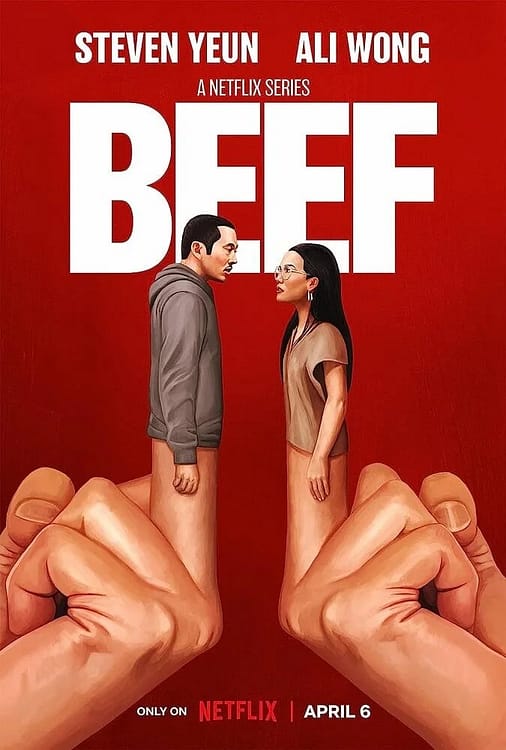 ---
Beef (2023) Series:- ratings
| | |
| --- | --- |
| FM's rating | 4.05/5 |
| IMDb rating as of the date | 8.4/10 |
| Rotten Tomatoes ratings as of the date | 98% Tomatometer & 89% Audience Score |
| Critics Consensus / Rotten Tomatoes | Ali Wong and Steven Yeun are a diabolically watchable pair of adversaries in this show, a prime-cut comedy that finds pathos in pettiness. |
FM, IMDb & Rotten Tomatoes ratings – Beef.
---
Beef (2023) Series:- trailer
---
Featured & Other Images: Beef | Netflix.
---