The Black Mirror series continues to shock and awe. In fact, it is one of the most talked about Sci-fi shows of recent times. Besides, we love its fresh and unique mind-bending tales.
Much to the delight of viewers like us who prefer fresh short tales, each episode in its sixth season offers a new thrilling story. More than a decade ago, this show originated in the United Kingdom in December 2011. However, in recent years, Netflix in the United States has taken over this show. Thereafter, they brought in quite a few changes in its content.
Please note we are only including the information about its sixth season, we shall have a separate article (s) about the rest of the five seasons of the Black Mirror show, maybe sometime in the near future.
---
Synopsis (summary) of the sixth season of the Sci-fi anthology show
"Expect the unexpected. The long-awaited return of Charlie Brooker's dark, satirical anthology series which reinvents itself with each new episode. The sixth season of Black Mirror is the most unpredictable, unclassifiable and unexpected yet.
Set in a world only minutes from our own, "Black Mirror", a UK and USA non-hosted anthology series; unveils how modern technologies can backfire and be used against their makers, every episode is set in a slightly different reality with different characters combating different types of technologies.
This explores a twisted, high-tech multiverse where humanity's greatest innovations and darkest instincts collide. Twisted tales run wild in this mind-bending anthology series that reveals humanity's worst traits, greatest innovations and more. Twisted tales that span eras — and terrors — deliver a myriad of surprises in this game-changing anthology series.
Black Mirror is a reference to the effect of a television or computer screen or mobile phone when switched off, giving a dark reflection of the onlookers.
---
Spoilers Free review of the Black Mirror (S6/2023) series
Its title & unusual storyline of this Sci-fi show
Let's start by talking about the Black Mirror anthology series that has enthralled us for the last five seasons with its unique and unusual stories. Its first two seasons were produced by British (UK) production company Zeppotron, whereas the third, fourth, fifth and sixth seasons were commissioned by Netflix, an American (USA) company. So, in case you have seen all the seasons, then might have noticed the changes in its content.
Ongoing subtle change in its Genre
In the first five seasons (aired from 2011 to 2019) of this Sci-fi series, the selection of its tales deals with the rapidly changing world of technology around all of us and often the disquieting reactions of humans to the same. However, in its sixth (2023) season, its storyline is markedly different from the original Sci-Fi genre. The compilation of five shocking fictional stories explores the horrifying tales involving dark human characters.
Good selection of actors in it
Talking about the actors, both Annie Murphy (as Joan) and Salma Hayek Pinault (as herself) were good in episode one. Then in the spooky episode two, actor Samuel Blenkin (as Davis) was perfect. Actors Aaron Paul (as Cliff), Josh Hartnett (as David) and Kate Mara (as Lana) broke our hearts with the tragic story in episode three. In addition, both actors Clara Rugaard (as Mazey) and Zazie Beetz (as Bo) played the roles of celebrity and paparazzi with consummate ease in episode four. Lastly, both the actors Anjana Vasan (as Nida) and Paapa Essiedu (as Gaap) played their negative characters with devilish charm in episode five – the season finale. The ensemble cast has done an admirable job in it. We liked their act in it.
Rapidly changing hi-tech world & the conclusion
In case, you all are interested, we have shared the spoilers of each of the five unique stories below. As they deal with our unease and paranoia in the rapidly changing hi-tech world. And with the speedy advancement of technology around us, not all of us can cope with the ongoing technological advancements.
Please note that we are still not comfortable with sharing the storylines of each episode with you all, as it will certainly ruin your viewing pleasure. Instead, we shall share the basic outline and theme of these stories. To conclude, we really enjoyed another season of this mind-bending anthology series – Black Mirror.
---
Spoilers Alert – episodes of the sixth season of the Sci-fi anthology show
Episode 1: Joan Is Awful
(FM rating – 3.85/5)

Summary

An average woman (Annie Murphy) is stunned to discover a global streaming platform has launched a prestige TV drama adaptation of her life — in which she is portrayed by Salma Hayek Pinault.

Poster

Storyline

One day, Joan (Annie Murphy) finds that her life story is the subject of a reality-based television series. So, she decided to find out more about the people behind the streaming show based on her life.

AI (Artificial Intelligence) & humans' lives

Thus, the first episode deals with the misuse of AI (Artificial Intelligence) in the entertainment industry of the future. It specifically tells the story of the global streaming services (is this tale taking a potshot at Netflix, well you tell us) that create reality television shows based on common people's lives to entertain its viewers, using the services of AI; wherein the right to privacy is non-existent in reel life.

Future?

Does this story predict the future and real life?

I don't really know. But it certainly seems so.

The ongoing strike by artists (writers, actors, voice artists, etc.) in Hollywood in real life, as they fear being replaced by AI (Artificial Intelligence) in the near future by powerful studios.

So, it seems once again this series is able to predict the future in a twisted way.
Episode 2: Loch Henry
(FM rating – 3.75/5)

Summary

A young couple (Samuel Blenkin and Myha'la Herrold) travel to a sleepy Scottish town to start work on a genteel nature documentary – but find themselves drawn to a juicy local story involving shocking events of the past.

Poster

Storyline

Two young filmmakers Davis (Samuel Blenkin) and Pia (Myha'la Herrold) visit the home town of Davis, seeking inspiration for their film. Incidentally, this town is infamous for the awful crimes in the past. Thus, the second episode deals with the horrifying discovery of new facts about the chilling murders of innocent victims more than two decades ago in the quaint little Scottish countryside.

Apparently, the gruesome killings in the distant past have scared the tourists away. So, these budding filmmakers decided to rake up the past, they also came across a set of VHS videos related to the said sadistic crimes. Things completely changed when a new film by Davis based on the discovered VHS tapes about the said killings was aired. His film not only won the viewership but it also received the prestigious awards.

True-crime stories & Disaster tourism fad

Off-late, as a consumer of entertainment in all forms, we have been demanding this based on the true-crime genre. No doubt, true crime and crime films (TV shows, series, podcasts, documentaries) are the latest fads.

It is a reflection of people's strange fascination with true crime stories and their desire to tour such places, akin to disaster tourism. Thus, a new wave of tourists kept flocking to the Scottish countryside.

Davis' film changed the lives of people in his hometown in Scotland. His bar-owner friend can no longer complain about the lack of tourists, the booming local economy and consumers in his bar.
Episode 3: Beyond The Sea
(FM rating – 3.95/5)

Summary

In an alternative 1969, two men (Aaron Paul and Josh Hartnett) on a perilous high-tech mission wrestle with the consequences of an unimaginable tragedy.

Poster

Storyline

Two astronauts – Cliff (Aaron Paul) and David (Josh Hartnett) are on a years-long mission in space. They use a technology called the replica bodies (robots), to keep in touch with their loving families.

The third episode is about scratching the surface to find out what happens to an ordinary man when the most unexpected and horrifying tragedy befalls a man and his family members. This is the most sad and tragic tale of the sixth season. It raises some of the most disturbing questions about morality and the (good and bad) choices people make when they are emotionally vulnerable.

This is what happened with the lives of two astronauts. One of them chooses the dark path, while the other continues on the path of righteousness, and the only question is for how long really.

Human behaviour is unpredictable

It is a story about the loss, pain, rage, sadness, loneliness, jealousy, isolation, etc. that we all feel when a tragedy befalls us. This reminds us of the lockdown period during the COVID-19 pandemic.
Episode 4: Mazey Day
(FM rating – 3.55/5)

Summary

A troubled starlet (Clara Rugaard) is dogged by invasive paparazzi while dealing with the consequences of a hit-and-run incident.

Poster

Storyline

In this horror story, Mazey (Clara Rugaard) has been described as a "troubled starlet" who has to deal with invasive paparazzi and a hit-and-run incident. This tale is full of unexpected twists and turns.

The fourth episode is about the modern tale combined with ancient folklore (with a stunning curveball) of the love-and-hate relationship between celebrities and the paparazzi. In this story, the paparazzi cross the proverbial line and it creates unforeseen life-threatening problems for all of them. This tale imparts a simple life lesson that paparazzi shouldn't violate the privacy of others.

Celebrity culture and Paparazzi

This celebrity culture deals with the elements of the cost of fame and the loss of privacy among celebrities. And the mindless exploitation of the famous people by the paparazzi for monetary reasons.

It is really a tongue-in-cheek dark tale of our times. Sadly, it reminded us of the tragic case of Princess Diana and the shameful behaviour of the paparazzi.
Episode 5: Demon 79
(FM rating – 3.65/5)

Summary

In Northern England, in 1979, a meek sales assistant (Anjana Vasan) is told she must commit terrible acts to prevent disaster.

Poster

Storyline

What happens, when Nida (Anjana Vasan) an ordinary woman who works in a shoe store as a salesgirl, meets the Gaap – the Demon 79 (Paapa Essiedu), well they embark on an unexpected journey.

The fifth episode is also the season finale, which was the first episode to be released under the new "Red Mirror" label, unlike the old "Black Mirror" branding.

Changing genre

It seems, more than likely that this kind of experiment in the series genre (as we had talked about the same in our review shared above) removes the typical dangerous-science (Sci-Fi) theme altogether with that of retro-themed horror elements, which reminds us of 1970s horror flicks.

Interestingly, this Demon is inspired by the Rasputin hitmaker Boney M. And perhaps, in the upcoming seasons of "Black Mirror", we are going to see a new genre.
---
Key details of the sixth season of the Sci-fi anthology show
Genre
Sci-fi, Drama, Mystery, Thriller
Age-restrictions
A (18+)
Original language
English (USA)
Released in
June, 2023
Creator
Charlie Brooker
Season
Six (6)
Episodes
Five (5)
Joan Is Awful
(Episode One) Cast
Annie Murphy as Joan
Salma Hayek Pinault as Herself
Avi Nash as Krish
Himesh Patel as Krish
Rob Delaney as Mac
Ben Barnes as Mac
Michael Cera as Beppe
Loch Henry
(Episode Two) Cast
Samuel Blenkin as Davis
Myha'la Herrold as Pia
Daniel Portman as Stuart
Monica Dolan as Janet
Gregor Firth as Kenneth
John Hannah as Richard
Tom Crowhurst as Iain Adair
Beyond The Sea
(Episode Three) Cast
Aaron Paul as Cliff
Josh Hartnett as David
Kate Mara as Lana
Auden Thornton as Jessica
Rory Culkin as Kappa
Mazey Day
(Episode Four) Cast
Clara Rugaard as Mazey
Zazie Beetz as Bo
Danny Ramirez as Hector
Demon 79
(Episode Five/Finale) Cast
Anjana Vasan as Nida
Paapa Essiedu as Gaap
David Shields as Michael Smart
Katherine Rose Morley as Vicky
Shaun Dooley as Len Fisher
Nicholas Burns as Keith Holligan
Network
Netflix
About – Black Mirror (S6/2023) Series
---
Poster of the Black Mirror (S6/2023) Series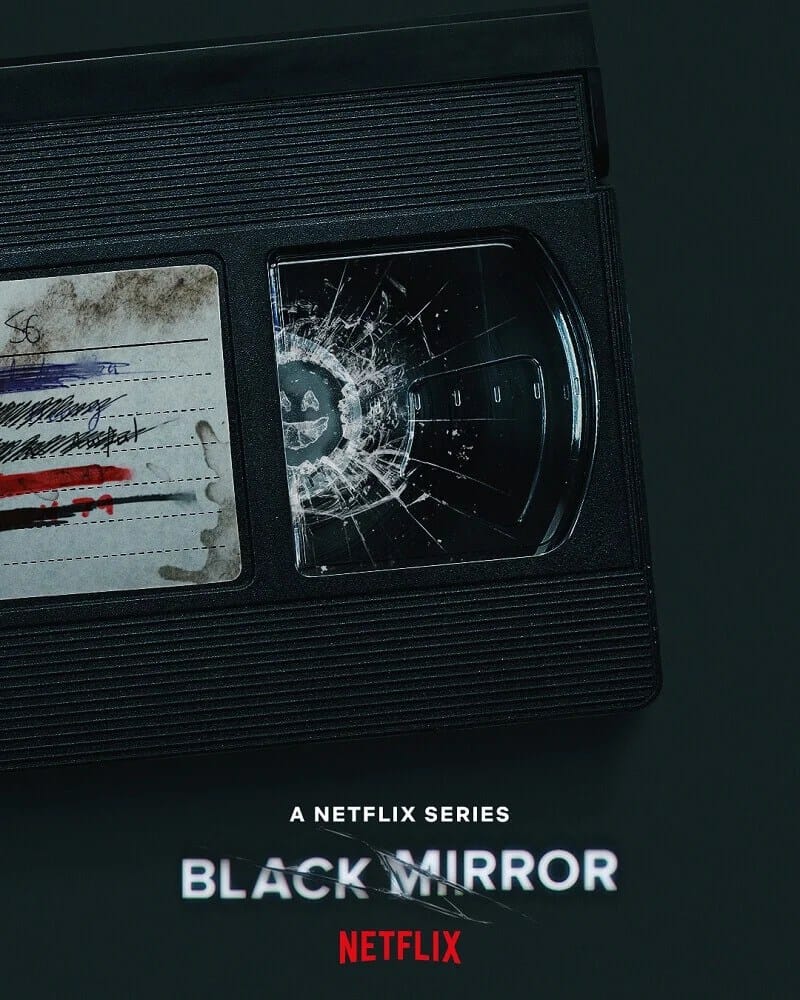 ---
Rating of the sixth season of the Sci-fi anthology show
FM's rating
3.75/5
IMDb rating as of the date
6.82/10 – Season 6

Note:- The overall IMDb rating of this show is 8.70/10.
Rotten Tomatoes ratings as of the date
78% Tomatometer & 42% Audience Score
Rotten Tomatoes/Critics Consensus
With a yield of instalments that range from instant classic to woefully undercooked, Black Mirror's sixth volume indicates a series that's no longer on the bleeding edge of sci-fi but hardly resting on its lofty laurels.
FM, IMDb & Rotten Tomatoes ratings – Black Mirror (S6) Show.
---
Trailer of the sixth season of the Sci-fi anthology show
---
If you like the anthology series from Hollywood, then check out and read our FM article about the Modern Love series, too.
Featured & Other Images: Black Mirror (S6/2023) Show | Netflix.
---