Charlie Chopra & The Mystery of Solang Valley is a fine series. It is about a brave female detective who solves a strange murder case that happened in a remote ski resort.
So, this Hindi-language murder mystery is set in the Solang Valley of Manali, Himachal Pradesh. It is a famous tourist spot, situated at an altitude of 8,500 feet above sea level.
---
Synopsis (summary) of this 2023 Hindi series
When her fiance gets implicated in a murder, Charulata 'Charlie' Chopra (Wamiqa Gabbi) arrives at his family home in pursuit of the truth. But as secrets tumble out that the murderer would rather have hidden, the next person to lose their life might be Charlie herself.
So, a rich man died, a town full of suspects, narratives filled with lies and an innocent convict. How will Charlie navigate through the mystery when every face hides a secret?
---
Spoilers free review of the Charlie Chopra & The Mystery of Solang Valley (2023) series
Based on Agatha Christie's whodunit novel
In fact, the story of this whodunit series is based on the novel The Sittaford Mystery written by bestselling fiction author Agatha Christie. Nevertheless, its Western (Dartmoor, England) story has been smartly adapted to the Indian milieu and palate. As a result, it is a good adaptation by the writing duo of Vishal Bhardwaj and Anjum Rajabali. So, Miss Charlie in this show takes over the character of Miss Emily Trefusis of The Sittaford Mystery book.
About Wamiqa Gabbi's character – Charlie
While further explaining the development of the character of Charlie – the funny and foul-mouthed female detective from Patiala (Punjab), this is what the filmmaker has shared.
In not so distant past, we had talked about the use of the fourth wall approach in the Annika Show, too. In this show, the protagonist Charlie played by the lead actor Wamiqa Gabbi adopts an interactive way to get their viewers hooked into her disarming ways of describing different characters and incidents in typical Punjabi style. On the other hand, we liked her honest and charming take on this show.
And this is how she prepared for her Punjabi character from Patiala city.
Besides the writer's backed personality of Charlie, almost all the major characters in this series have good depths. We get to meet the different shades of each character in it.
A talented bunch of actors & the conclusion
New and upcoming talented actor Wamiqa Gabbi (Charlie Chopra) has shone brightly in it. Moreover, the ensemble cast of this show boasts of some of the wonderful acting talents – Neena Gupta (Dr Janaki Rawat), Priyanshu Painyuli (Sitaram Bisht), Lara Dutta (Wilayat Hussain), Lalit Parimoo (Prof. Mohan Rawat), Baharul Islam (Col. Anand Barua), Ratna Pathak Shah (Ms Bharucha), Gulshan Grover (Brig. Meharbaan S. Rawat), Naseeruddin Shah (Mr Roy), etc.
They have done a good job of keeping the mystery and suspense going in this show.
Can you spot the murder suspect in this short video clip from the series? | YouTube.
In addition to the good writing adaptation and great acting by its talented star cast, the direction and the cinematography are also of high quality. In conclusion, we reiterate that it is a good murder mystery and we enjoyed it. Now, we look forward to its second season, and hopefully, Charlie will fight her demons and solve the painful mystery in her life.
---
Key details of this 2023 Hindi series
| | |
| --- | --- |
| Genre | Mystery, Suspense, |
| Original language | Hindi (with a bit of Punjabi) |
| Age-restrictions | UA (16+) |
| Released in | June & September, 2023 |
| Season | One (1) |
| Episodes | Six (6) |
| Writers | Agatha Christie, Vishal Bhardwaj & Anjum Rajabali |
| Director | Vishal Bhardwaj |
| Cinematographer | Tassaduq Hussain |
| Cast | Wamiqa Gabbi (Charlie Chopra), Neena Gupta (Dr Janaki Rawat), Priyanshu Painyuli (Sitaram Bisht), Lara Dutta (Wilayat Hussain), Lalit Parimoo (Prof. Mohan Rawat), Imaaduddin Shah (Billu Nautiyal), Baharul Islam (Col. Anand Barua), Ratna Pathak Shah (Ms. Bharucha), Chandan Roy Sanyal (Manas Dabral), Paoli Dam (Saloni Dabral), Vivaan Shah (Jimmy Nautiyal), Gulshan Grover (Brig. Meharbaan S. Rawat), Naseeruddin Shah (Mr. Roy), etc. |
| Network | Sony Liv |
About – Charlie Chopra & The Mystery of Solang Valley (2023) Show.
---
Poster of this 2023 Hindi series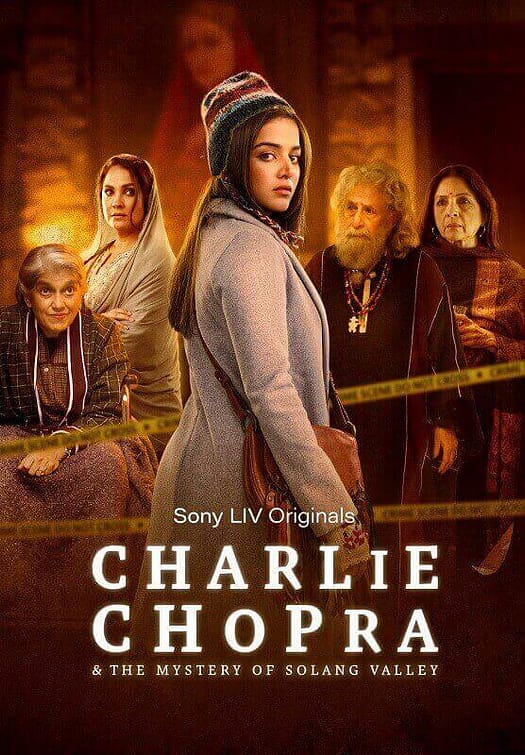 FM rating of this 2023 Hindi series
| | |
| --- | --- |
| FM's rating | 4.00/5 |
| FM's short comment | We liked this Indian adaptation of Agatha Christie's novel. The talented actors in the star cast of this murder mystery collection make it perfect. |
Rating – Charlie Chopra & The Mystery of Solang Valley (2023) Show.
---
Trailer of this 2023 Hindi series
---
Spoilers alert – episodes, murders & ending explained
Peek into its six Episodes

S1/E1.∙The Legend of Lady Rose (7.6)

Brigadier Rawat's (Gulshan Grover) murder in snowy Manali shakes tight-knit Rockford Estate. Detective Charlie (Wamiqa Gabbi) resolves to uncover the truth and vindicate her fiance.

S1/E2. Sansani (7.8) (Hindi ~ it means sensationalism)

After the explosive arrival of Nicole 'Nikki' Morris (Emily R. Acland) leaves the entire family reeling, Charlie begins to dig into their secrets, aided by a reluctant partnership with Sitaram (Priyanshu Painyuli).

S1/E3. Keh Do Ki Yeh Jhooth Hai (Hindi ~ it means to say that she is a liar)

When Solang Valley is rocked by a second death in a matter of weeks, Charlie's investigation kicks into an overdrive, as she reopens questions that others thought were already answered.

S1/E4. Organic Honey

After a personal betrayal, Charlie becomes obsessed with unearthing the truth no matter the cost, but her reckless pursuit gives way to more enemies than answers.

S1/E5 ∙ Mai Phuddu Aan (Punjabi ~ it means am I fool/stupid?)

Narrowly escaping a close call with death, Charlie reunites with Sitaram. Together they race against time to find the murderer, because now they're next on the list.

S1.E6 ∙ Look Within

More lives are lost, secrets unearthed, and betrayals come to light in the final chapter of Charlie's investigation.
So, what were the reasons for the murder and who was the murderer?

Brigadier Meharbaan S. Rawat (Gulshan Grover) is murdered in the opening scene of the show. Soon after the local police in Manali arrested his nephew Jimmy Nautiyal (Vivaan Shah) as a prime suspect. That arrest forced the aspiring Detective Charlie (Wamiqa Gabbi) to travel from Chandigarh to Solang Valley so that she could save her fiance from the murder charges.

In the last couple of episodes, we came to know that Colonel Anand Barua (Baharul Islam) had murdered the Brigadier, as the Brigadier was planning and going ahead with the proposed sales of the ski resort at Solang Valley. That sale would have made Colonel lose his passion project of skiing. In addition, it would have also made him an unemployed army veteran with no future because of his disability, because he had lost his eye during a war while helping and saving the life of the Brigadier.

Another aggrieved member of the family was Dr Janaki Rawat (Neena Gupta) in it. She was the lost love of the Brigadier from their younger days, however because of their complicated relationship, she ended up getting married to the Brigadier's brother. Both of them have a son Varun Rawat (Pulkit Makol), who was suffering from a life-threatening kidney ailment.

Their son Varun needed a very costly kidney transplant from a donor in a foreign nation. When Janaki requests the well-off but selfish Brigadier for money for their son's treatment, he makes fun of her and reminds her of the wrong choices that she had made in her life. That confrontation hurt Janaki and she planned on getting an act of revenge by getting rid of the arrogant and disgusting Brigadier.

So, both Dr Janaki Rawat and Colonel Anand Barua are murderers in it.
The cliffhanger ending of the series is explained below.

In a flashback, we learn that Lovely Chopra (Richa Chadha in a guest appearance) – the mother of Charlie has gone missing, while they were investigating a case.

Charlie believes that her mother is dead and buried somewhere.

But in the last scene of season one, Lady Rose's ghost tells Charlie, "You dig up everyone's truth but bury your own…your mother isn't buried yet…look within…look within…look within." The eerie ghost music continues to play in the background, heightening the suspense surrounding the fate of Charlie's mother.

Maybe, in the upcoming season, the viewers will get the answers about Charlie's mother. We are keeping our fingers crossed.
If you like this murder mystery series written and directed by Vishal Bhardwaj, then go ahead and read an FM article about another movie of his – Khufiya, too.
Featured Image and Poster from the Charlie Chopra & The Mystery of Solang Valley (2023) series | Sony Liv.
---