The Company You Keep, this latest 2023 show is classic and old-fashioned in its content. Perhaps to spice it up and keep it interesting. So, it has all the necessary ingredients to keep viewers like me interested.
This crime drama has a sprinkling of family ties, romantic pairing, politics, corruption, smuggling, investigation, espionage, et al, added to its narrative. People like me have grown up watching dramatic series such as this, which caters to a varied taste palate in a show. Let's see, why this show engaged me this weekend. It has a family of con artists, another family of politicians, further a family of drugs and arms smugglers, and then there are CIA and FBI agents pursuing their own investigations.
---
Table of Contents
---
The Company You Keep (2023) Show:- key details
| | |
| --- | --- |
| Genre | Crime, Drama, Romance |
| Released | February 2023 |
| Season | One (1) – 2023 |
| Episodes | Ten (10) |
| Cast | Milo Ventimiglia, Catherine Haena Kim, Sarah Wayne Callies, William Fichtner, Felisha Terrell, etc. |
| Taglines | All is Fair in Love and Lies |
About – The Company You Keep
---
The Company You Keep (2023) Show:- synopsis
A night of passion leads to love between con man Charlie (Milo Ventimiglia – centre left) and undercover CIA officer Emma (Catherine Haena Kim- centre right), who are unknowingly on a collision course professionally. While Charlie ramps up the family business with sights set on getting out for good, Emma works to close in on the vengeful criminal who holds Charlie's family debts in hand — forcing them to reckon with the lies they've told so they can save themselves and their families from disastrous consequences.
---
The Company You Keep (2023) Show:- a spoiler-free review
It is a tale about Charlie, who often gets caught in difficult and challenging situations, perhaps because of the strange life choices that he makes while choosing his girlfriend, soulmate, friends, enemies, et al. Not only that, Charlie is a con man and he gets close to a CIA agent Emma romantically, as the picture in the above poster depicts. Now, imagine the kind of chaos and confusion, that is bound to be unleashed on him and his family. But that is not all, there is more.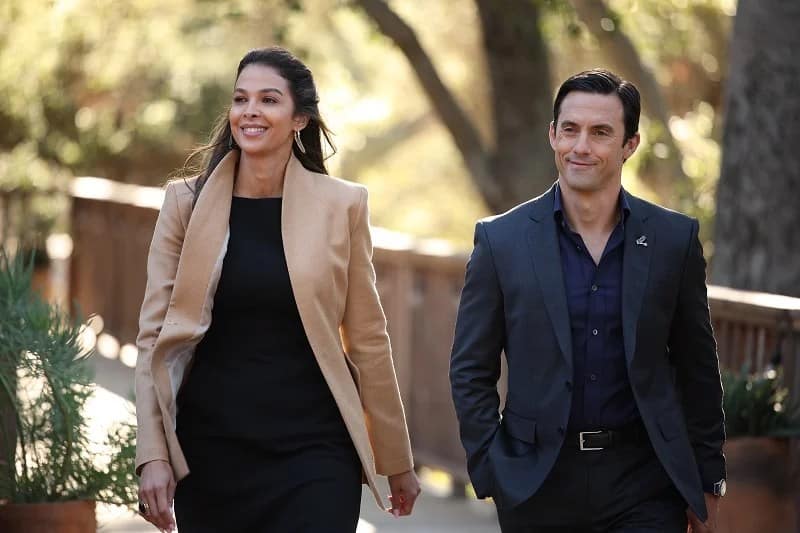 As Sun Tzu said, one should choose one's enemies wisely, but it seems Charlie doesn't believe in it. In Daphne (Felisha Terrell – her picture with Milo), an ambitious member of the vengeful criminal family, Charlie finds a powerful nemesis. Their confrontation further leads to mess and lawlessness in his and his family's life. With so many zigzags, twists, turns and complexities in this story of Charlie, the big question is can Charlie and his family dig themselves out of the hole that they find themselves in? Will he, his family and his friends find a way out for themselves? Find out.
The ensemble cast of this (limited mini-series) series has done charming acting jobs to keep viewers engaged. Also, the lead pairing of Milo (Charlie) and Kim (Emma) is fascinating and attractive. Among family members of Charlie, I recognized Sarah Wayne Callies (who plays his sister Birdie), who I have seen in her hit TV shows – Prison Break (2005-09), The Walking Dead (2010- ), etc; and also William Fichtner (plays his father Leo), who has worked in popular tv shows – Prison Break (2005-09), Mom (2016-2021), etc, besides a couple of his well-known movies are Elysium (2013), Independence Day: Resurgence (2016), etc.
As the saying goes in India, this show has all kinds of masala (spices) ingredients – romance, action, drama, spies, con artists, siblings, family values, sign languages, villains, CIA, FBI and much more.
No wonder, I found it an entertaining time-pass series.
The storyline of this potpourri of the genre is engaging. It is a good escapist show. Perhaps, a perfect time-pass entertainment for you all. As I liked it.
Now, it seems after airing for one season and ten episodes, this show is not being renewed for season two by its TV Network ABC.
As a limited mini-series, it is the perfect series to binge-watch.
---
The Company You Keep (2023) Show:- poster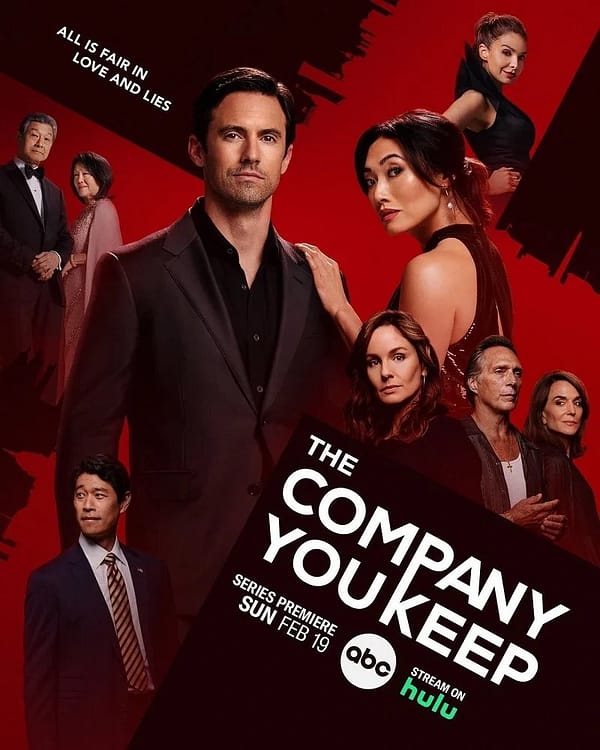 ---
The Company You Keep (2023) Show:- ratings
| | |
| --- | --- |
| FM's rating | 3.75/5 |
| IMDb rating as of the date | 7.30/10 |
| Rotten Tomatoes ratings as of the date | 85% Tomatometer & 93% Audience Score |
| Critics' Consensus / Rotten Tomatoes | This show gets off to a rocky start in the first few episodes, but the show's appealing cast and entertaining blend of crime and romance will pay off for patient viewers. |
FM, IMDb & Rotten Tomatoes ratings – The Company You Keep
---
The Company You Keep (2023) Show:- trailer
---
Featured & Other Images: The Company You Keep Show | Hulu.
---