The Trip is a Norwegian language movie that depicts the madcap lives of a badly dysfunctional couple. Their relationship is deeply flawed. As they embark on the travel, quite a few horrifying twists and turns await them.
The original name of "The Trip" movie is "I onde dager" in the Norwegian language, which means "In bad days" in English, as per Google Translate. In this movie, we (viewers) get introduced to the Norwegian sense of humour, and you might like their unique sense of humour; with a few exceptions of course. In this violent action film, personally, maybe you will have to take a couple of deep breaths and give your eyes a rest.
---
Table of Contents
---
Focus:- Nordic/Scandi/Scandinavian – Noir
Well according to the Nordics: "The Nordic Noir is most often considered to be a specific genre of TV series. However, it also includes literature, film productions, and video games. Besides, it has even been extended to style, design, and music. Its key elements include a murky atmosphere, dark narratives, and flawed protagonists. Its popularity may lie in the fact that it usually undercuts the dominant narrative of the Nordics as thriving states with happy people and successful economies, but there is a dark underbelly here, too."
The Nordic Noir genre is also known as Scandinavian Noir or Scandi Noir, as it is set in the Nordic or Scandinavian countries of Europe. Denmark, Norway, Sweden, Finland, Iceland, Faroe Islands, Greenland, and Åland Islands are part of the Nordic Region.
---
The Trip (I onde dager) Movie:- details
| | |
| --- | --- |
| Genre | Action, Comedy, Horror, Mystery, Thriller |
| Age-restrictions | A (18+) |
| Released | July 2021 (in Norway) |
| Writers | Tommy Wirkola, Nick Ball, John Niven |
| Director | Tommy Wirkola |
| Cast | Noomi Rapace, Aksel Hennie, Atle Antonsen, Christian Rubeck, etc. |
| Taglines | Till death do us part. |
About – The Trip (I onde dager) film.
---
The Trip (I onde dager) Movie:- synopsis
Well, that escalated quickly. Lars (Aksel Hennie) and Lisa's (Noomi Rapace) marriage has seen better days. But a weekend trip to the family cabin in the woods offers them both a chance to start fresh. As soon as the other one is dead.
---
The Trip (I onde dager) Movie:- a brief review
There are various unexpected twists and turns in this action-filled movie. You might like this movie, but there are quite a few scenes in this film which might make you uneasy and uncomfortable. Therefore the FM rating has been deducted, although some of the viewers might like those horrifying scenes. We watched this movie only for Noomi. For her portrayal of another feisty character, I think, one can watch this film too, at least once.
---
Focus:- actress Noomi Rapace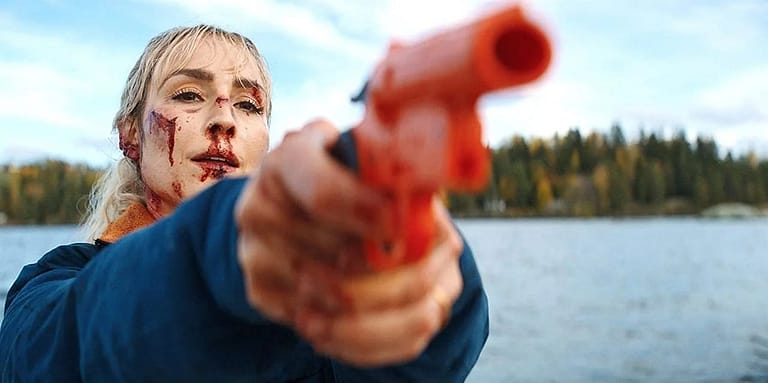 One-half of the dysfunctional couple in this movie is the Swedish actress, Noomi Rapace (born Pär Ola Norell), whose acting kept us engaged in this movie too. She is of half-Spanish and half-Swedish parentage; thus she is multilingual. She can fluently speak her native Swedish language, besides, she can articulate in other languages like – Icelandic, Danish, Norwegian, English, etc.
| | |
| --- | --- |
| Movies | The Girl with the Dragon Tattoo (Män som hatar kvinnor – 2009), The Girl Who Played with Fire (Flickan som lekte med elden – 2009), The Girl Who Kicked the Hornet's Nest (Luftslottet som sprängdes 2009), Sherlock Holmes: A Game of Shadows (2011), Prometheus (2012), Dead Man Down (2013), The Drop (2014), Bright (2017), Stockholm (2018), Angel of Mine (2019), Lamb (2021), You Won't Be Alone (2022), etc. |
| TV – Series & Movies | Pusselbitar (2001), Labyrint mobisodes (2007), Labyrint (2007-2008), Millennium (2010), Tom Clancy's Jack Ryan (2019), etc. |
Body of work – Noomi Rapace
…..
Usually, Noomi plays emotionally and physically scarred women regularly. In fact, as a leading actor, she often acts in action movies and demands to perform her own action stunts whenever it is possible in the movies.
She came into international prominence for her portrayal of Lisbeth Salander's character in the 2009 movie – The Girl with the Dragon Tattoo. I also loved her acting in that crime-mystery movie franchise.
---
The Trip (I onde dager) Movie:- poster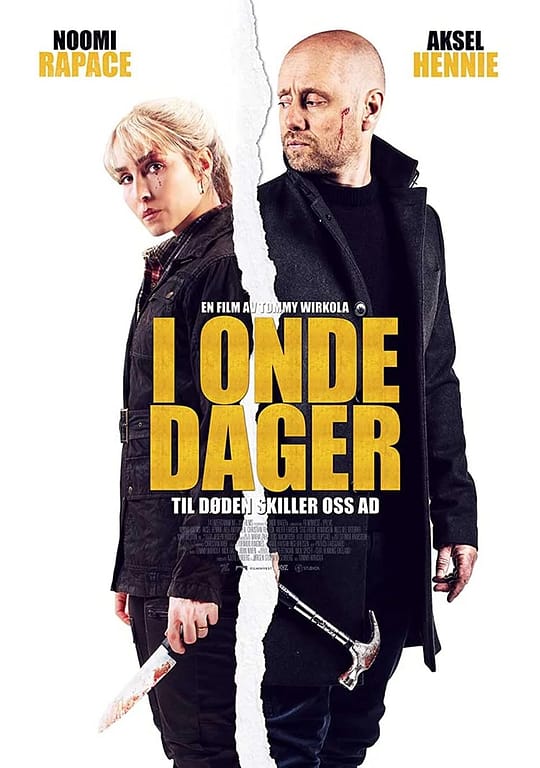 ---
The Trip (I onde dager) Movie:- ratings
| | |
| --- | --- |
| FM's rating | 3.50/5 |
| IMDb rating as of the date | 6.90/10 |
| IMDb rating as of the date | 92% Tomatometer & 76% Audience Score |
| Keith Garlington / Rotten Tomatoes | This film isn't for the faint of heart. Some scenes are extremely intense and the further it goes the gorier the movie gets. Yet it's all fused with this wicked sense of humour that often pops up in the most unexpected moments. |
FM, IMDb & Rotten Tomatoes ratings – The Trip (I onde dager) film.
---
The Trip (I onde dager) Movie:- trailer
---
Featured & Other Images: The Trip | IMDb.
---