Apurva is a movie about a brave woman who fights back to survive against all odds. Although this film is not based on a specific real-life incident, it is inspired by true events.
The setting of this film is the Chambal region (with many hidden ravines) in Madhya Pradesh, wherein the four murderous gangsters are running amok. For those who are unaware, this Chambal area has long been famous for harbouring violent gangs of criminals known as the dacoits. We have spent a part of our lives in this dreaded region.
---
Synopsis [official summary] of the Apurva (2023) movie
When an ordinary young girl Apurva (Tara Sutaria) is forced to survive in an extraordinarily dangerous situation, nothing is off-limits.
---
Spoiler Free review of the Apurva (2023) movie
One-and-a-half-hour lengthy Apurva film
We across the following piece of summary on the IMDb website about this film, "Apurva, a brilliant and enigmatic detective, is drawn into a complex web of deceit, secrets, and a dangerous conspiracy." However, after watching this one-and-a-half-hour lengthy film, we realized this film has a different storyline. Perhaps, it was done to fit the streaming services.
Usually, Hindi movies are closer to two-and-a-half-hour long, just like the recent 12th Fail movie. This movie too was set in the Chambal region. Maybe, the makers of this movie have edited Apurva's film to make its run-time closer to those of the International movies. Consequently, its story seems predictable and devoid of any mind-blowing twists and turns.
Mind you, we are only sharing our guesswork here.
Now, let us get back to its story.
The story of this crime drama film is set in Chambal
We are not sharing its detailed story here. As it might spoil your viewing pleasure. Instead, we shall give you the broad outline of the film.
One of the most heartening things in this Hindi film is that its protagonist is a brave young girl Apurva (Tara Sutaria) in this crime drama.
On the other end, of the spectrum are its antagonists – the criminal members of the Ranga gang. They are Jugnu (Rajpal Yadav), Sukha (Abhishek Banerjee), Balli (Sumit Gulati), and Chota (Aditya Gupta). All of these four bad guys have planned to rape and kill Apurva (Tara Sutaria) in the film. Completely cornered, she has no option but to retaliate against these four cruel and ruthless gangsters.
So, using her smart brain cells and rare courage, she fights like a lioness to survive in the rough terrain of the Chambal region. Where even the local police fear to venture into.
What else we did not like about this film
All the characters mentioned above live in the Chambal region of Madhya Pradesh. Yet they speak in different dialects. And this is the annoying aspect. And we did not like it. Unlike the 12th Fail movie mentioned above, the Apurva movie fails to add regional flavours and the local dialect of the Chambal region. We wish they could have done that.
Besides, this survival drama about the damsel in distress needed more twists, turns and surprises. Incidentally, this movie reminds us of another Hindi film titled NH10, which was set in Gurgaon and its adjoining rural areas. All the above-mentioned ingredients would have made it closer to the quality of the tension-filled NH10 film.
What we liked about this film and the conclusion
Tara Sutaria has tried hard to play the Apurva with conviction. However, there are not many confrontational scenes in it, between her and the villains. Yet, we liked her action scenes.
This movie has two very experienced actors Rajpal Yadav (in the Jungle film) and Abhishek Banerjee (in the Paatal Lok series), who have excelled in portraying the sinister villainous character. So, along with Sumit Gulati (Balli), they have managed to hold our attention. However, they could not match their great performances of the past.
No Hindi film is complete without its song. So, we liked the mushy Diwali and Hai Khuda songs from this film. Also, it seems that it was shot in real locations of Chambal. Its tough and rugged terrain has been beautifully shot in its cinematography. To conclude, with its short length the Apurva is a complete time-pass thriller movie to watch.
---
Ratings of this 2023 Crime Thriller Hindi movie
| | |
| --- | --- |
| FM's ratings | 3.50/5 |
| FM's short comments | This 2023 film Apurva could have been a much better thriller if only, it could have tightened its script further. Still, it is a good timepass movie. |
FM rating of the Apurva (2023) movie.
---
Poster of the Apurva (2023) movie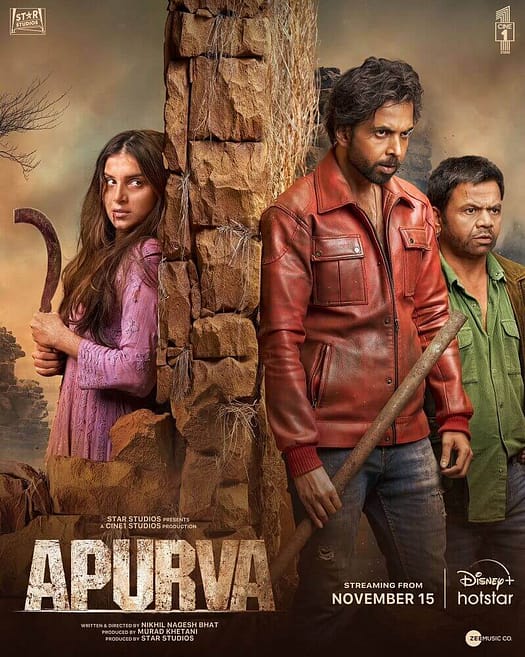 ---
Key details of this 2023 Crime Thriller Hindi movie
| | |
| --- | --- |
| Genre | Drama, Thriller, Crime |
| Original language | Hindi |
| Released in | November, 2023 |
| Duration | 1 hour 35 minutes |
| Age-restrictions | A (18+) |
| Writer & Director | Nikhil Nagesh Bhat |
| Cinematography | Anshuman Mahaley |
| Lyrics and music composer | Vishal Mishra |
| Cast | Tara Sutaria (Apurva), Rajpal Naurang Yadav (Jugnu), Abhishek Banerjee (Sukkha), Sumit Gulati (Balli), Aaditya Gupta (Chhota), Dhairya Karwa (Siddharth), etc. |
| Network | Disney+ Hotstar |
About – Apurva (2023) movie.
Trailer of the Apurva (2023) movie
Featured Image and Poster of the Apurva (2023) Film | Disney+ Hotstar, Tara Sutaria (IG) and Canva.com
---