The Royal Hotel is a tense thriller set in a mining town in Australia. In this anxiety-ridden film, two American young girls are caught in a difficult situation in a remote town.
This deeply disturbing and realistic film is inspired by the feature documentary film Hotel Coolgardie (2016) based on true incidents. This Australian documentary narrated the stories of two female backpackers from Finland who were working in a bar located in a remote Australian town. It was a shocking portrait of sexism in the outback of Australia.
---
Synopsis (official summary) of this 2023 thriller film from Australia
Americans Hanna (Julia Garner) and Liv (Jessica Henwick) are best friends backpacking in Australia. After they run out of money, Liv, looking for an adventure, convinces Hanna to take a temporary live-in job behind the bar of a pub called 'The Royal Hotel' in a remote Outback mining town.
Bar owner Billy and a host of locals give the girls a riotous introduction to Down Under drinking culture but soon Hanna and Liv find themselves trapped in an unnerving situation that grows rapidly out of their control.
---
Spoiler Free review of The Royal Hotel (2023) Movie
This movie is set in the remote town of Down Under Australia. It is the first-ever feature film to be shot in the South Australian country town of Yatina. In fact, this outback town has a population of just nine people. The disused heritage country South Australian pub is the Yatina Hotel in Yatina, the same has been turned into The Royal Hotel for the shooting of this film.
We learnt that The Royal Hotel is one of the most common names in Australia's hospitality business. Also, it is worth mentioning that the 'Yatina' is an indigenous Australian Aboriginal word and is their name for a black rock which is found in the said region. As a result, we also meet a couple of actors belonging to the indigenous Australian Aboriginal community.
Tales of Hanna and Liv
So, when we met these two young American girls' characters – Hanna (Julia Garner) and Liv (Jessica Henwick) in this movie, we were fully invested in their stories. So, when both of them ended up in the remotest red-dust Australia the sleepy mining town of Yatina, we were concerned. Especially, when these two girls take jobs in the town's only pub 'The Royal Hotel', where the majority of the customers are not of garden-variety kinds.
The behaviour of the males inside the pub is unsettling. More so, when these two so-called 'fresh meat' youngsters serve drinks to the handsy and ogling consumers in the said pub.
The uneasy working environment in The Royal Hotel pub
Soon enough, as their stories moved forward, we became deeply worried for their safety. Mind you, there are not one or two villains in this film. The prevailing culture and dominant environment inside that pub are eerie, to say the least. Although we liked the immersive experience of this film, it was a disturbing experience for us.
No doubt, this film is made from a feminist perspective. However, it admirably shows the ugly sides of deep-seated sexism. Plus the fact as to how male chauvinism behaviours in our society work. However, one major question that continues to bother us even after this film has ended, is whether this pub is a microcosm of broader society in Australia and beyond.
Isn't this kind of incident happening not only in the said pub but in many other places around the world, too? Why don't you think about it, in an honest manner?
Okay.
Their stories show a mirror to our male-dominated society
Rightly so, this film has been aptly described as a "social thriller inspired by true events" by its creative team. In a manner of speaking, this film checks the patience and courage of two young girls Hanna and Liv. Both of them had to deal with unrestrained hostility. Then there are many instances of unwanted attention from some of the shady male characters in the pub. There is always a chilling and terrifying danger lurking around them.
Maybe, the sheer remoteness of this Australian wilderness town only acts as a catalyst for high testosterone levels. As a result, many of them indulge in highly inappropriate behaviour. Then there are cases of fragile masculinity too. In addition, one could see that there is certainly an unthinkable distance between the so-called well-mannered and respectful worlds. That enlightened distant place is governed by socially and politically accepted behaviour. No wonder, the males in many patriarchal-dominated societies behave in this manner, as they have no fear of repercussions. It is an exploration of human behaviour, especially the dominant males. Perhaps, it is a much-needed reality check.
Director Kitty Green, Actors – Julia plus Jessica and the conclusion
This film is the debut feature film of Australian-born writer-director Kitty Green. And undoubtedly, she has made a good film on the sensitive topic of sex discrimination.
Both the young actors Julia Garner (we loved her in the Ozark show) and Jessica Henwick (we last saw her in the Glass Onion film) have been captivating in it. As the pub owners – these two actors – Hugo Weaving (we reviewed his Love Me series on FM) and Ursula Yovich have been natural in the supporting roles. We liked the acting performances of Julia Garner (Hanna), Jessica Henwick (Liv), Hugo Weaving (Billy), and Ursula Yovich (Carol) in it.
A chilling immersion into a place and time fraught with constant danger, The Royal Hotel reunites Kitty Green and Julia Garner to electrifying effect.
Full of raucous drinkers and ogling patrons, the girls soon realise that pouring pints is the least of their work. Amusing, disturbing, and thoroughly bizarre, this candid doc reveals the struggles of adapting to life in an insular and politically incorrect community.
In this adult film, there is a lot of stress and intense scenes. Still, we found this movie to be a compelling watch. And to be completely honest, we never felt so concerned about the fate of these two girls. We felt a range of nerve-racking emotions while watching it. It is a good social and psychological thriller. It shows a mirror to the society – how many men behave.
To conclude, we liked the ending of this film. With so many shady characters around, the two brave girls managed to keep their cool and control the unequal power dynamics.
---
Rating of this 2023 thriller film from Australia
| | |
| --- | --- |
| FM's rating | 3.75/5 |
| FM's short comments | This psychological thriller movie kept us tense and anxious for one-and-a-half hours with its commendable performances and tight script. Kudos to its directors and actors for taking up the challenging subject of toxic masculinity in our human society. And dealing with it in a mature manner. |
Rating – The Royal Hotel (2023) Movie.
---
Poster of The Royal Hotel (2023) movie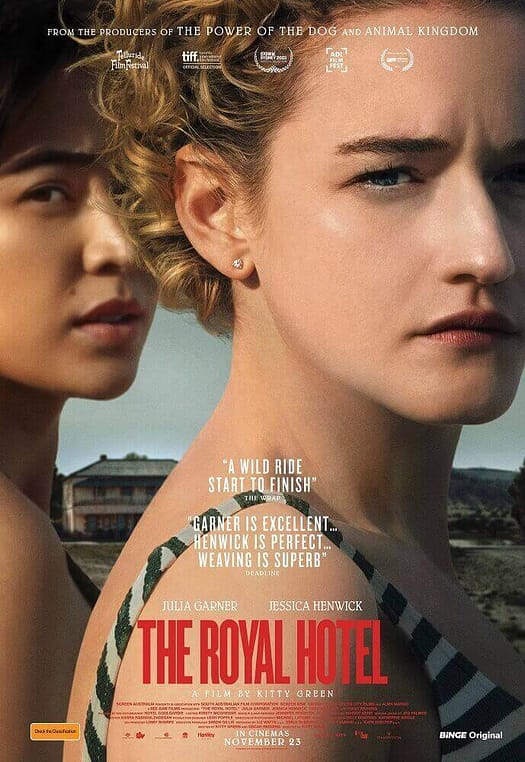 ---
Key details of this 2023 thriller film from Australia
| | |
| --- | --- |
| Genre | Mystery, Thriller, Drama |
| Original language | English (USA & Australian versions) |
| Age-restriction | A (18+) |
| Duration | 1 hour 31 minutes |
| Writers | Kitty Green, Oscar Redding, Kitty Green, & Oscar Redding |
| Director | Kitty Green |
| Cast | Julia Garner (Hanna), Jessica Henwick (Liv), Hugo Weaving (Billy), Ursula Yovich (Carol), James Frecheville (Teeth), Toby Wallace (Matty), Daniel Henshall (Dolly), etc. |
| Taglines | A fun adventure is all they wanted |
About – The Royal Hotel (2023) movie.
---
Trailer of The Royal Hotel (2023) movie
Featured Image & Poster of The Royal Hotel (2023) movie | Neon.
---