The Fable – this Japanese movie is based on the famous Manga (comics or graphic novels) of Japan. A youngster recommended this action-comedy movie to us so that we could relax and enjoy it on a weekend.
After I had watched this movie, I was smiling joyfully. It was like a breadth of fresh air in an action-comedy genre and provided us with perfect escapism in the tension-filled reality of our daily lives. This Japanese action comedy movie will certainly make one smile, on more than one occasion.
---
The Fable (2019) movie:- synopsis/summary
Jun'ichi Okada plays the lead role of a highly trained assassin in this movie. Now, this mob hitman is ordered to become a normal law-abiding citizen.
Since his childhood days – he was trained to become a dispassionate enforcer and ruthless assassin. Nowadays, he is well-known for his professionalism and independent thoughts. In the underworld folklore of Japan, he is simply known as Fable. And yes, he charges premium prices for his assassination service. However, he was forced by circumstances to take a sabbatical from killing assignments, get a new pseudonym Akira Sato and move away to Osaka hideaway.
---
The Fable (2019) movie:- poster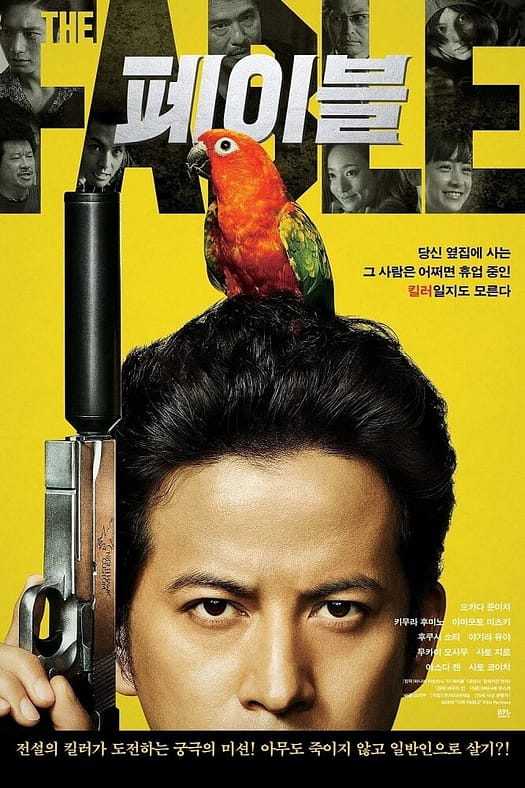 ---
The Fable (2019) Movie:- review
We heard about this movie from a young kid in my family, who is an avid fan of Manga comics. And I must admit honestly that I have not seen many Japanese language movies. Besides, I have yet to read a Manga. Therefore, I kept my fingers crossed. However, this film came as a pleasant surprise. This movie is based on the Manga comics The Fable series published from November 1, 2014, to November 18, 2019.
Please allow me to share the excerpts from the said Manga comics.
Fable is a legendary hitman who has completed numerous jobs for a variety of clients. After concluding his latest assignment, the number of people he has recently killed becomes too high, and he is ordered by his boss to lay low for a year. He is suggested that having to adapt to life as an ordinary citizen might prove a valuable experience for his future work.

He is to be accompanied by the woman who acts as his driver, and the two will assume new identities as siblings. However, their boss warns them that they will both face a deadly punishment if Fable kills anyone during his time off. Thus begins Akira and Youko Satou's joint one-year sabbatical from the underworld.

The Fable | My Anime List
The hero (Jun'ichi Okada) and his sidekick (Fumino Kimura) in this film have done praiseworthy hilarious acts. It made me admire the well-choreographed action scenes. Also, in case, just like me, you also love the funny movie scene shared in this article, then please go ahead and watch two hours long Japanese action-comedy movie. Now, I plan to watch many more movies and series from Japan. This film has got me hooked.
This is a Japanese Supaisu (スパイス – masala/spices) movie that manages to tickle my funny bones.
And if you too like this film then check out the next part of the movie, The Fable-The Killer Who Doesn't Kill. Both the films are good and should be seen to pass your time.
We liked watching this good time-pass film. Enjoy!
---
The Fable (2019) movie:- details
Genre
Action, Comedy
Original
language
Japanese (ザ・ファブル Za faburu)
Released
June 2019
Director
Kan Eguchi
Writers
Katsuhisa Minami (original manga) & Watanabe Yusuke (screenplay)
Cast
Jun'ichi Okada, Fumino Kimura, Mizuki Yamamoto, etc.
Awards
Fantasia Film Festival 2019 – Outstanding Action Movie – Kan Eguchi
Neuchâtel International Fantastic Film Festival 2019 – Best Asian Film – Kan Eguchi
About – The Fable film.
---
The Fable (2019) Movie:- trailer
---
The Fable (2019) Movie:- ratings
| | |
| --- | --- |
| FM's rating | 3.50/5 |
| IMDb rating as of the date | 6.50/10 |
| IMDb rating as of the date | 71% Audience Score |
| Panos Kotzathanasis / Rotten Tomatoes | This film is occasionally silly, cheesy, and imbalanced but damn me if it isn't one of the most entertaining movies of the year and one of the best manga adaptations I have seen during the latest years. |
FM, IMDb & Rotten Tomatoes ratings – The Fable film.
---
Focus:- video of a funny scene in this movie
Let us take a peek into the funny scene showcasing Japanese humour in a scene from this movie.
If you adore this scene, then go ahead and savour this movie.
---
Featured & Other Images: The Fable Film | Netflix.
---