Florida Man series narrates a tale of the ex-cop Mike Valentine and his misadventures. His murky past catches after his mobster boss orders him to return to his hometown in Florida state on a personal assignment.
It was supposed to be a simple straightforward task for Mike, yet he continues to stumble from one challenge at times, to another in this complex state. Meanwhile, the fugitive girlfriend Delly carries on planning and scheming ways to permanently escape from the tight clutches of the mobster boss Moss Yankov. Who will succeed in the end? That is the crux of this story, with quite a few twists and turns in it.
---
Table of Contents
---
Florida Man (2023) Mini Series:- details
| | |
| --- | --- |
| Genre | Crime, Drama, Mystery, Thriller |
| Original language | English (USA) |
| Age-restrictions | A (18+) |
| Season & Episodes | Only one season, as it is a limited series with Seven (7) episodes. |
| Released | April 2023 |
| Creator | Donald Todd |
| Cast: | Edgar Ramírez, Abbey Lee, Otmara Marrero, Emory Cohen, etc. |
| Tagline | Some Places Just Reel You In. |
| Network | Netflix. |
About – Florida Man (2023) Show.
---
Florida Man (2023) Mini Series:- synopsis
Under the sun. Under the gun.
It is a new limited series from creator Donald Todd that follows a struggling ex-cop Mike Valentine (Édgar Ramirez) forced to return to his home state of Florida to find a Philly mobster's runaway girlfriend Delly West (Abbey Lee). What should be a quick gig becomes a wildly spiralling journey into buried family secrets, and an increasingly futile attempt to do the right thing in a place where so much is wrong.
---
Florida Man (2023) Mini Series:- brief review
While reading about the USA's sunshine state – Florida, I learnt that Spanish explorer Juan Ponce de León landed there in 1513 and named this territory La Florida (it means 'The Flower' in the Spanish language) and it remained under Spanish influence. Then about three centuries later in 1845, it achieved statehood. After that, it started to attract more settlers by marketing itself as an untouched territory covered with nature and swamps. So, in the late 19th and early 20th century, this state attracted many new immigrants.
In popular US culture, this state is infamous for being state-infested with crimes and criminals both in news media as well as in social media; so much so that even comedic shows are built around this state.
[Florida is] giant cockroach-choking, hazard-infested, Hooters-dining, reptile-abusing, Everglades-draining, election-ruining, stripper-motorboating, ball-sweat-scented, genitalia-shaped, 24-hour mug shot factory.

Jon Stewart's video in Comedy Central
And this seems like an unnecessary and avoidable rant.
According to the Netflix network, the title of this mini-series is made popular by hilarious memes on the said Twitter account. However, not only this Twitter account but many other social media users turned struggling real-life individuals with limited access to resources into a laughingstock – the memes for public consumption and humiliation.
In case you wish to learn more about this particular meme character, go ahead and Google "Florida Man and [your birthday]" to see which headlines were published the day you were born about the same.
This kind of situation led the person running the above-mentioned Twitter account to do some kind of soul-searching. Finally, its creator asked himself publicly, "'How much do I want to be a party to essentially making fun of people on the worst day of their lives, even if they have done something wrong?'"He officially retired the said Twitter account in 2019, paving the way for a new interpretation.
Now, let us get back to the story of this limited series. You know, this series is actually a story of a go-getter and smart woman – Delly West – the Florida Woman. In this crime series, she is surrounded by gun-toting dangerous men. Yet in the end, she outthinks and outsmarts all those shady people around to get what she wishes in life, including the yellowish (wink-wink – a hint) flower bouquet loved by women folks.
One does not have to strain too much of brain cells to binge-watch this series and enjoy their antics. This limited series is a good time-pass entertainment option on any given holiday or weekend.
---
Florida Man (2023) Mini Series:- poster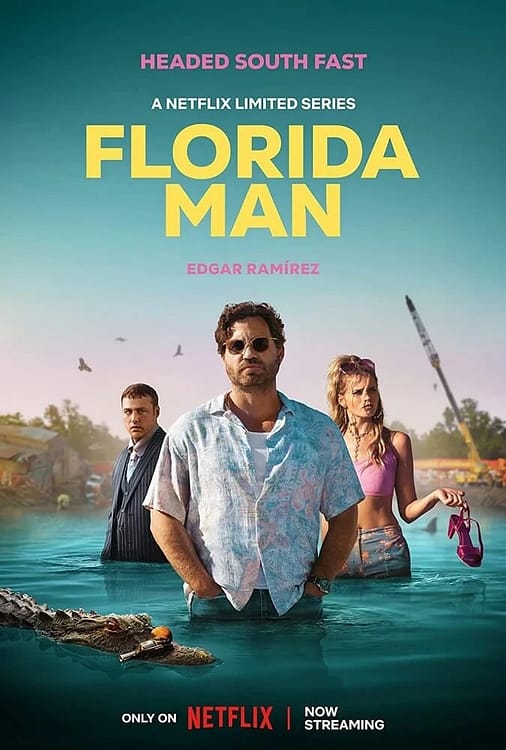 ---
Florida Man (2023) Mini Series:- ratings
| | |
| --- | --- |
| FM's rating | 3.35/5 |
| IMDb rating as of the date | 6.80/10 |
| Rotten Tomatoes ratings as of the date | 25% Tomatometer & 83% Audience Score |
| Isabel Parigi / Rotten Tomatoes | It is nothing groundbreaking but will make for a fun watch on a rainy day. |
FM, IMDb & Rotten Tomatoes ratings – Florida Man (2023) Show.
---
Florida Man (2023) Mini Series:- trailer
---
If you like crime shows like this one from the USA, then check out the Justified-City Primeval article on our FM, too.
Featured & Other Images: Florida Man | Netflix.
---