Hunger is a Thai film about chefs, food and much more. This is an insightful and thrilling drama about our modern society and the complex relationship between humans and food.
Usually, Hunger means a compelling need or desire for food. However, it expands this idea. So, it is also about people's hunger for love, fame, money, recognition, relationships, etc.
---
Synopsis (summary) of the Hunger (2023) movie
Aoy (Chutimon Chuengcharoensukying), a woman in her twenties, runs her family's local stir-fried noodles restaurant in the old quarter of Bangkok. One day, she receives an invitation to leave the family business and join team 'Hunger', Thailand's number one luxury Chef's table team led by the famously ingenious, and infamously nasty, Chef Paul (Nopachai Chaiyanam).
---
Spoilers free review of the Hunger (2023) Movie
After Aoy (Chutimon Chuengcharoensukying) joins the team 'Hunger' led by Chef Paul (Nopachai Chaiyanam), he exposes her to the dark sides of the fine-dining industry.
The world of fine dining experience
The setting of this sharp and intelligent movie is Bangkok, Thailand. However, its ideas and contents carry universal themes. This is true for people and societies around the world.
So, the high-priced lavish food dishes served by Chef Paul and his team 'Hunger' show us the insatiable greed, snobbery, arrogance, and pretensions of the privileged rich class of society. The eating style of his wealthy clients seemed boorish as they enjoyed his culinary art. What people eat is often defined by their status and affluence level in society.
Insights about the food
Therefore, in a strange sort of way, this film is a fascinating exploration of how the food we eat defines all of us and our position in society. Therefore, the Chef claims that what you eat represents your social status, it has nothing to do with love. The POOR people eat simply to satisfy their hunger. Meanwhile, for the RICH people, their hunger never really ends. The RICH have no regard for the laws and decorums. They are willing to pay any price for their exclusive experiences with their highly-priced fine-dining experience.
Is the fine dining experience expensive because it's special? Or is it special because it is expensive? Perhaps, something to ponder upon.
On a side note, we can say that back home in India, of late FOOD has taken Religious and Political colours in recent years. So, we, people have a strange relationship with food.
About Chef Paul, Aoy & the conclusion
Now, coming back to the arrogant master Chef Paul and the simpleton pupil Aoy, their chemistry is intense. We never felt so terrified, while watching angry showman Chef Paul throw his weight around in the kitchen. There is no democracy, only dictatorship in that kitchen. Still, her hunger for approval, and for becoming something special forces her to stick around in his kitchen, where raw passion and unhealthy emotions dominate.
The greed and professional jealousy come between Chef Paul and his pupil Aoy, too. But then, some people are blessed with loving family to show them a way and the right path.
Although, this film has a predictable storyline, some of its intelligent observations and smart make it a good film to watch. This culinary art thriller is taken to the next level because of the high-quality acting performances by its talented ensemble cast. Both the protagonist Chutimon Chuengcharoensukying (Aoy) and the antagonist Nopachai Chaiyanam (Chef Paul) have done an excellent job in it.
The cinematography and the background music are good too. All of these combine together to make this intense drama from Thailand, a good film to watch, indeed.
---
Key details of this 2023 Thai drama movie
| | |
| --- | --- |
| Genre | Drama, Thriller |
| Original language | Thai (from Thailand) |
| Age-restrictions | A (18+) |
| Released in | April, 2023 |
| Duration | 2 hours 26 minutes |
| Writer | Kongdej Jaturanrasamee |
| Director | Sitisiri Mongkolsiri |
| Cast | Chutimon Chuengcharoensukying (Aoy), Nopachai Chaiyanam (Chef Paul), Gunn Svasti Na Ayudhya (Tone), Bhumibhat Thavornsiri (Au), etc. |
| Network | Netflix |
| Taglines | There is a HUNGER that can never be fulfilled. |
About – Hunger (2023) movie.
---
Poster of this 2023 Thai drama movie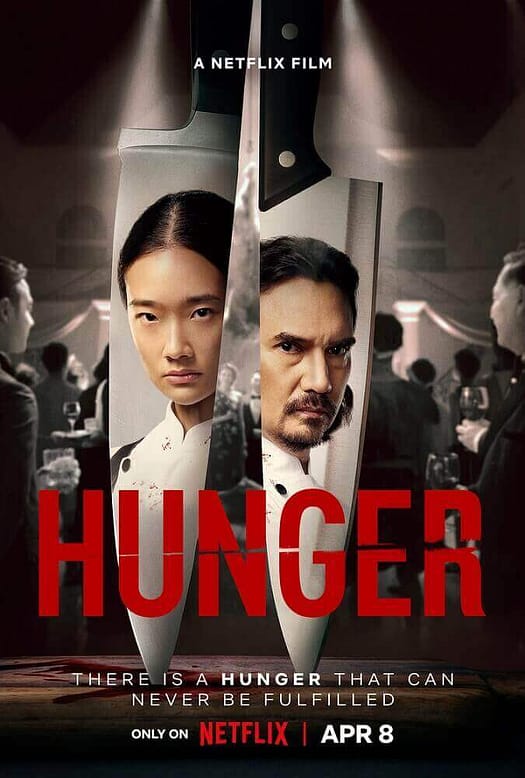 ---
FM's rating of this 2023 Thai drama movie
| | |
| --- | --- |
| FM's rating | 3.75/5 |
| FM's short comments | Both actors – Chutimon Chuengcharoensukying (Aoy) and Nopachai Chaiyanam (Paul) shine brightly in this thrilling drama. It story delves into the complex relations that we have with our food. So, it smartly uses food as a tool, to comment on the human flaws and faultlines in our society. |
FM's rating of the Hunger (2023) movie.
---
Trailer of this 2023 Thai drama movie
If you like this intelligent movie from Thailand, then go ahead and check out another smart film Parasite from Korea, too.
Featured Image and Poster of Hunger (2023) movie | Netflix.
---