12th Fail (2023) is a Hindi movie that depicts uplifting tales of UPSC aspirants in India. It is an inspiring real-life story of Manoj Kumar Sharma (IPS) and Shraddha Joshi (IRS) officers.
UPSC stands for Union Public Service Commission. It is India's premier central recruitment agency for recruitment of all the Group 'A' officers under Government of India.

IPS means Indian Police Service. IPS officers provide senior level leadership to Police Forces both in the States and at the Centre.

IRS implies Indian Revene Services. IRS officers are entrusted the job for collecting and administering direct and indirect taxes.
In fact, Manoj and Shraddha are serving civil officers at present. Furthermore, it is based on the 12th Fail – a biographical book by Anurag Pathak about the inspiring lives of the couple.
---
Synopsis (summary) of this 2023 Hindi movie
The 12th Fail film is an incredible, inspiring real-life story of a boy from Chambal Manoj Kumar Sharma (Vikrant Massey) who aims to achieve an impossible dream of passing the world's toughest civil services entrance exam, that of the Union Public Service Commission in India.
---
Spoiler-free review of the 12th Fail (2023) Hindi Movie
12th Fail is a good film
The 12 Fail movie is a great film from India. We found this real-life story about the proverbial dark horse emerging as the champion to be emotionally moving and heart-touching.
Under normal circumstances, we do not expect the 12th-fail students, especially from Hindi-medium schools from rural areas, to aspire to become high-profile and prestigious civil servants in India. But this is what happens in this feel-good film. Significantly, this is what happened with the real-life hero Manoj Kumar Sharma, who became an IPS officer. Even, his wife Shraddha Joshi is not so far behind, as she joined the IRS services.
This 12th Fail film is not only an exhilarating story, but it is a story of many young Indian students. It is above overcoming one's failures to taste the sweet success in life.
The reality of UPSC aspirants in Delhi
This story is about the UPSC aspirants who overcome all sorts of hurdles, deprivation and poverty, and then finally emerge as the winner. The UPSC exam is like a year-long marathon of exams, with three distinct stages – Preliminary (Prelims) Exams, Mains Exams and Interviews. Consequently, Gauri Bhaiya, a lovable character in this film rightly compared this UPSC exam to the much-dreaded snake and ladder game.
And then there is RESTART for many UPSC aspirants, as only a few hundred (out of lakhs) get to become the civil services officer in the end. And that is the harsh reality of the unemployment bomb in India. We liked this Restart song (all the versions) of the film, as it is apt and perfectly describes the (almost unending) cycle of the UPSC exam.
So, it is a unique tale of an underdog. He passes the most prestigious exam in India despite all the odds. A couple of lines from the Hindi poem that we keep hearing in it.
...हार नहीं मानूंगा, रार नहीं ठानूंगा,
काल के कपाल पे, लिखता मिटाता हूं...
(...Haar nahin manunga, raar nahin thanunga, 
Kaal ke kapaal pe, likta mitata hoon...)
...I will not give up, I will not give up,
I erase what I write on the skull of time...
Important issues raised in the film
In a way, this film takes quite a few potshots. It talks about the burgeoning unemployment problems and the artificial scarcity of government jobs in India. Then there are cases of faulty educational systems and widespread corruption in government departments. The dominance of immoral politicians in the hinterlands of the country is also touched upon.
LOL- (laughing out loud)
झूठी बातें इतनी सच्चाई से बोलते हो, टीवी पर रिपोर्टर बन जाओना 
(Jhoothi baatein itni sachai se bolte ho, TV par reporter bun jao na)
You speak lies so truthfully, become a reporter on TV.
Not to forget, there is a LOL reference to the many TV media journalists who continue to spread fake news and lies in the national media, every hour and every day and night.
Not to forget the daily struggle of the students who come from families with limited monetary resources. And then, they continue to carry the torch of their (and that of their families) dreams and aspirations. That is despite numerous hardships. This is what the protagonist Manoj Kumar Sharma (Vikrant Massey) goes through in his life. Yet, he managed to overcome all kinds of hurdles and distractions. So, that he can be an IPS officer. This is a classic tale of a proverbial underdog, who became an unlikely winner in the end.
Superb Vikrant Massey & Admirable Medha Shankar
We have no words to describe the superb acting performance of Vikrant Massey (Manoj Kumar Sharma) in this film. His portrayal of the guy from Chambal is too good. Also, his character arc is notable. He is amazingly supported by the admirable Medha Shankar (Shraddha Joshi), who looks radiantly charming in the film. Moreover, we must praise the realistic characters played by the talented duo. Both Anant Vijay Joshi (Preetam Pandey) and Anshumaan Pushkar (Gauri Bhaiya) are good. The acting by all of them raised this film to another level.
We have already shared the 'Restart' song that we loved. Places like Mukherjee Nagar and Malka Ganj in Northern Delhi add realism to its story. We think, that maybe the movie scenes involving the Atta Chakki (Flour Mill) and the zig-zag roads of Mussorie are metaphors. One has to go through these grinders to emerge as a champ in one's life.
Educate, Agitate, Organize.

~ Dr. B.R. Ambedkar at the All India Depressed Classes conference in July 1942 in Nagpur, India.

The conclusion
The writer and director Vidhu Vinod Chopra has made another poignant movie. He has directed some good Hindi films like – Parinda (1989), 1942: A Love Story, Kareeb (1998), etc.
This realistic movie has some good life lessons for youngsters. The highly motivated hero of this film could not have reached his UPSC goals, had he not received unprecedented love and support from his family and friends are important. Thus, building good relationships is important for every person. Only, then one can emerge as the winner in the end.
It is an inspirational story that highlights the fact that no goal is impossible. Especially, for the people who are deeply motivated and willing to work hard to achieve their goals.
We highly recommend this sleeper hit film to you all. In general, good word of mouth is helping this 12th Fail film to emerge as the winner at the box office in India.
---
Key details of this 2023 Hindi movie
| | |
| --- | --- |
| Genre | Drama, Biography |
| Original language | Hindi (with a little bit of English and of the local dialect spoken in Chambal, Madhya Pradesh from India) |
| Released in | 27 October, 2023 |
| Duration | 2 hours 27 minutes |
| Writers | Vidhu Vinod Chopra, Jaskunwar Kohli & Anurag Pathak |
| Director | Vidhu Vinod Chopra |
| Cast | Vikrant Massey (Manoj Kumar Sharma), Medha Shankar (Shraddha Joshi), Anant Vijay Joshi (Preetam Pandey), Anshumaan Pushkar (Gauri Bhaiya), Priyanshu Chatterjee (DSP), Harish Khanna (Father), Vikas Divyakirti (Self), etc. |
| Taglines | "Haar Nahin Manunga" (हार नहीं मानूंगा ) means "I will not give up" |
| Distributor | Zee Studios |
About – 12th Fail (2023) film.
---
Poster of this 2023 Hindi movie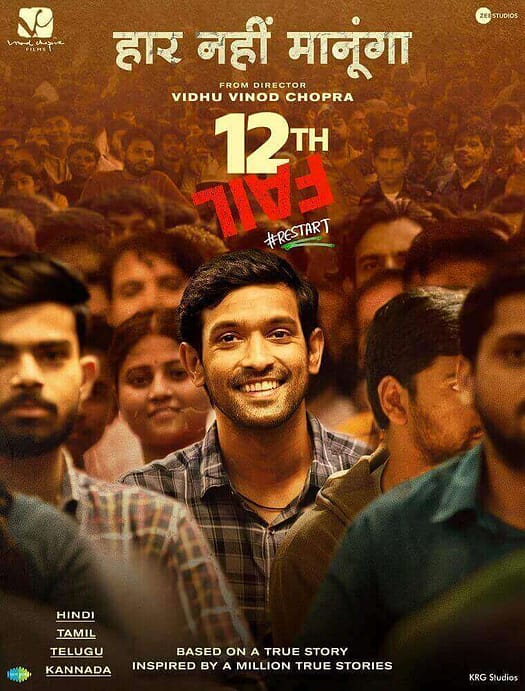 ---
Rating of this 2023 Hindi movie
| | |
| --- | --- |
| FM's rating | 4.35/5 |
| FM's short comments | It is a realistic film about the youth, who aspire to become civil servants after undertaking one of the toughest examinations in India. Notably, its protagonist is amazingly played by Vikrant Massey. Even the support cast of Medha Shankar, Anant Vijay Joshi and Anshumaan Pushkar have been great in it. |
Rating – 12th Fail (2023) film.
---
Trailer of this 2023 Hindi movie
If you like this Hindi film from India based on a real-life story, then check out the "Sirf Ek Bandaa Kaafi Hai" film, too.
Featured Image & Poster of 12th Fail (2023) film | Zee Studios.
---