Knives Out is a contemporary murder mystery by the well-known writer and director Rian Johnson. This modern crime tale is about the ongoing class struggle between the wealthy and the not-so-rich people.
The former 007 – Daniel Craig plays the renowned Detective Benoit Blanc, who solves the murder mystery. With this whodunit movie, director Rian pays homage to Agatha Christie – she is one of the best-selling novelists of all time and perhaps the world's most famous mystery writer.
---
Table of Contents
---
Knives Out movie:- synopsis
When renowned crime novelist Harlan Thrombey (Christopher Plummer) is found dead at his estate just after his 85th birthday, the inquisitive and debonair Detective Benoit Blanc (Daniel Craig) is mysteriously enlisted to investigate. From Harlan's dysfunctional family to his devoted staff, Blanc sifts through a web of red herrings and self-serving lies to uncover the truth behind Harlan's untimely death.
---
Knives Out movie:- brief review
I have always loved a good whodunit movie like this one. With its stellar ensemble cast of amazing actors, this really is an entertaining murder mystery movie; which dares to question the class divide in a subtle way.
Daniel Craig aka 007 leads from the front as the antagonist Detective Benoit Blanc. He is superbly supported by a group of other well-known actors – Christopher Plummer (Harlan Thrombrey), Chris Evans (Ransom Drysdale), Ana de Armas (Marta), Jamie Lee Curtis (Linda Drysdale), Toni Collette (Joni Thrombey), Don Johnson (Richard Drysdale), Michael Shannon (Walt Thrombey), Riki Lindhome (Donna Thrombey), etc.
Most of these actors are playing the roles of the suspected murderers in this whodunit movie. Almost the entire family of the murdered Harlan Thrombey has reasons and means to carry out the killing.
And to be honest, I do not know how to review a suspense movie without offering any kind of spoiler to the readers, who have yet to see this film. Although I must praise the writer and director of this detective cinema – Rian Johnson; he has done a commendable job. Kudos to his entire team too especially its ensemble actors for entertaining us with such an amazing crime-mystery cinema.
It is one of the great suspense that I have seen in recent years. And without any kind of hesitation, I highly recommend this movie to watch ASAP.
---
Knives Out movie:- poster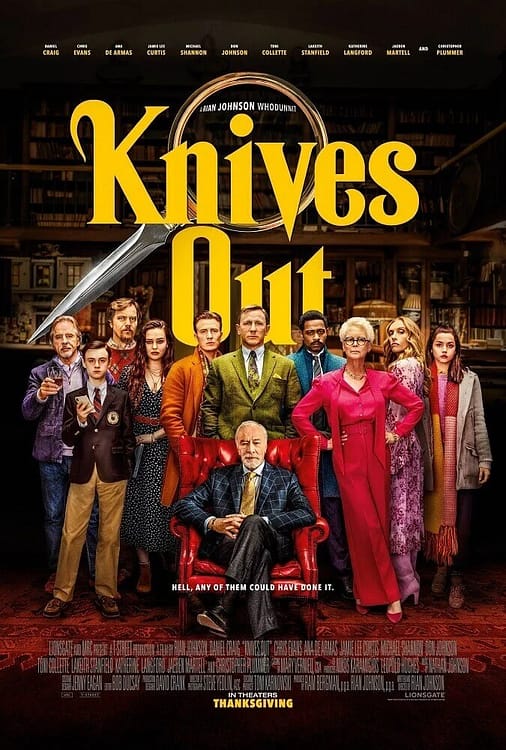 ---
Knives Out movie:- details
Genre
Crime, Drama, Mystery, Thriller, Comedy
Writer & Director
Rian Johnson
Released
November 2019
Age-Restrictions
UA
Cast
Daniel Craig, Chris Evans, Ana de Armas, Jamie Lee Curtis, etc.
Awards
Satellite Awards 2019 – Winner – Special Achievement Award – Best Ensemble, Motion Picture – K Callan, Toni Collette, Daniel Craig, Jamie Lee Curtis, Ana de Armas, Chris Evans, Don Johnson, Katherine Langford, Riki Lindhome, Jaeden Martell, Frank Oz, Edi Patterson, Christopher Plummer, Michael Shannon, LaKeith Stanfield, etc.
Hollywood Critics Association 2020 – Winner – HCA Award – Best Cast
AFI Awards, USA 2020 – Winner – AFI Award – Movie of the Year – it simply slays a modern "whodunit" pulsing with Hitchcockian thrills in this stylish staging of murder most foul.
Academy of Science Fiction, Fantasy & Horror Films, USA 2021 – Winner – Saturn Award – Best Thriller Film
Academy of Science Fiction, Fantasy & Horror Films, USA 2021 – Winner – Saturn Award – Best Supporting Actress – Ana de Armas
About – Knives Out film.
---
Knives Out movie:- trailer
---
Knives Out movie:- ratings
| | |
| --- | --- |
| FM's rating | 4.15/5 |
| IMDb rating as of the date | 7.90/10 |
| Rotten Tomatoes ratings as of the date | 97% Tomatometer & 92% Audience Score |
| Critics Consensus / Rotten Tomatoes | This film sharpens old murder-mystery tropes with a keenly assembled suspense outing that makes brilliant use of writer-director Rian Johnson's stellar ensemble. |
FM, IMDb & Rotten Tomatoes ratings – Knives Out film.
---
Focus on other whodunit movies
A couple of years ago, the Writer and Director Rian Jhonson shared a list of whodunit movies on a Twitter thread – Evil Under The Sun (1982), Murder By Death (1976), Death On The Nile (1978), The Last Of Sheila (1973), Deathtrap (1982), Clue (1985), Gosford Park (2001), The Mirror Crack'd (1980), Something's Afoot (1982), Murder On The Orient Express (1974), The Private Eyes (1980), and Pokémon Detective Pikachu (2019).
In recent times, Rian Johnson has created admirable whodunit movies; besides a fantastic crime drama series titled Poker Face. Watch all of these, but start with this 2019 murder mystery film.
Glass Onion ~ Detective Benoit Blanc investigates a tech billionaire and his friends for murder.
Poker Face ~ A mystery-of-the-week series follows Charlie Cale, who has an extraordinary ability to determine when someone is lying.
Enjoy!
Featured & Other Images: Knives Out | Lionsgate.
---