We Have A Ghost movie has a family-friendly devil in a house that may make you feel sympathetic towards him instead of fearing him. This Ghost – a lost soul from the 1970s discovers the people's obsession with tech.
In addition, there is 24X7 news-media coverage of the Ghost besides some of the other absurdities of the modern-day cyberspace world.
---
Table of Contents
---
We Have A Ghost (2023) Movie:- details
| | |
| --- | --- |
| Genre | Family, Adventure, Comedy, Horror, Mystery |
| Original language | English (USA) |
| Age-restrictions | UA (13+) |
| Released | February 2023 |
| Duration | 2 hours 6 minutes |
| Writers | Christopher Landon, Geoff Manaugh |
| Director | Christopher Landon |
| Taglines | Set your spirit free. |
| Cast | Jahi Di'Allo Winston, David Harbour, Anthony Mackie, Isabella Russo, Erica Ash, Tig Notaro, etc. |
| Network | Netflix. |
About – We Have A Ghost film.
---
We Have A Ghost (2023) Movie:- synopsis
Finding a ghost named Ernest (David Harbour) haunting their new home turns Kevin's (Jahi Di'Allo Winston) family into overnight social media sensations. But when Kevin and Ernest go rogue to investigate the mystery of Ernest's past, they become a target of the CIA.
---
We Have A Ghost (2023) Movie:- brief review
In this film, the said Ghost is still stuck in the past, in the 1970s world, until one day, he gets discovered by the tech-savvy young kids of the 21st century. This supernatural horror adventure comedy may make you smile when you encounter the latest buzzwords like social media platforms and internet sensations. Even government agencies in the 21st century get involved in this funny story about a bald ghost from the past.
They should have tightened the scripts and added more comedic scenes involving the available comedic talent flair among its star casts. This movie could have been much better, as I believe it missed a great opportunity with its talented actors, such as David Harbour (Ernest), Anthony Mackie (Frank), and Jennifer Coolidge (in a guest appearance). The story had lots of potential, but its team could utilize it properly.
The heart-wrenching ending of the movie broke my (in fact our team member) hearts. It provided a satisfying ending to the Ghost.
Still, it is an enjoyable watch as long as you can overlook a few things here and there. And I repeat, despite the shortcomings mentioned (and not mentioned) above, I believe, this is a good family movie that you can relish, while it lasts. I must honestly state that despite all its goofs-ups, this light-hearted horror comedy made us laugh and enjoy it with family members.
If you feel like watching another horror show from the USA, then perhaps check out our article about The Last of Us series, too.
---
We Have A Ghost (2023) Movie:- poster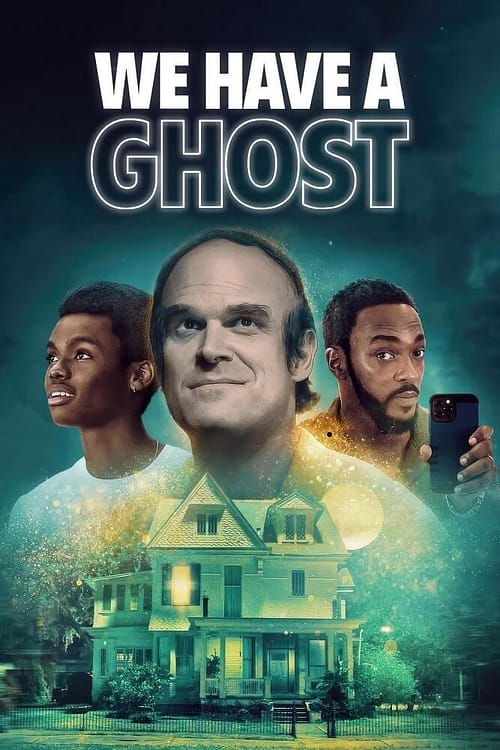 ---
We Have A Ghost (2023) Movie:- ratings
| | |
| --- | --- |
| FM's rating | 3.25/5 |
| IMDb rating as of the date | 6.10/10 |
| Rotten Tomatoes ratings as of the date | 42% Tomatometer & 64% Audience Score |
| Rotten Tomatoes / Critics Consensus | This film has a fun concept and a talented cast; unfortunately, this spookily uneven '80s pastiche also has very little idea of what to do with them. |
| Rotten Tomatoes / Audience Says | It suffers from some clunky writing, but this film is a fun lightweight supernatural comedy that might even make you cry. |
FM, IMDb & Rotten Tomatoes ratings – We Have A Ghost film.
---
We Have A Ghost (2023) Movie:- trailer
---
Featured & Other Images: We Have A Ghost | Netflix.
---