The Burial film is about the heroic David Versus baddy Goliath courtroom drama. It is based on a real-life legal story. This tale took place a few decades back in 1995 in the USA.
Thus this Burial film is inspired by a true story – the civil trial. So, it began on September 12, 1995, in Jackson, Mississippi, in the USA. Rather interestingly, the core theme of this film is based on an article with the same name 'The Burial'. The said article was published in the New Yorker magazine on November 1, 1999. So, this takes us back to the 20th century.
---
Summary (synopsis) of this 2023 Hollywood film
When a handshake deal goes sour, funeral home owner Jeremiah O'Keefe (Tommy Lee Jones) enlists charismatic, smooth-talking attorney Willie E Gary (Jamie Foxx) to save his family business. Thereby, lawyer Willie helps a funeral home owner Jeremiah save his family business from a corporate behemoth, also exposing a complex web of race, power, and injustice.
In this film, tempers flare and laughter ensues as the unlikely pair bond while exposing corporate corruption and racial injustice in this inspirational, triumphant story.
---
Spoilers free review of The Burial (2023) film
Based on the real-life story
It is worth noting, that its writers and director have taken quite a few creative liberties while recreating this legal drama. They have changed some of the facts for dramatic effect. Also, certain characters, characterizations, incidents, locations, and dialogues are fictionalized or created for dramatization. But, we liked all these delightful changes.
In fact, the central focus of the story in this film is the contractual dispute court case brought against the corporate giant Loewen Funeral Company by a small-time Biloxi businessman Jeremiah O'Keefe (Tommy) in Mississippi, the USA.
The antagonist is Ray Loewen (Bill Camp) the head of Loewen Funeral Company – a large chain of Canadian and American funeral homes. Then, we meet the flamboyant Florida trial attorney Willie Gary (Jamie), who plays Jeremiah's attorney in the said court case.
While watching this courtroom tale, we got emotionally invested in the proverbial team David led by war hero veteran Jeremiah O'Keefe (Tommy) – a patriarch of a family-owned business and his dazzling attorney Willie E. Gary (Jamie) in it. Both challenged the might of a corporate giant – the Loewen Funeral Company. We were cheering for Jeremiah and Willie in it, as they attempted to take down a greedy, immoral and ambitious company.
Two Academy Award® winners and other actors
The presence of two Academy Award® winners playing the lead roles – Tommy Lee Jones (Jeremiah O'Keefe) and Jamie Foxx (Willie Gary) has been a masterstroke by its makers. The pairing of strong and silent Tommy Lee Jones along with that flashy and brilliant Jamie Foxx only added charm to this true story of these two real-life heroes.
Both of them – Tommy and Jamie are in wonderful form, especially Jamie, as plays a role backed by writers and suits his colourful persona.
Other cast members – Jurnee Smollett (Mame Downes), Mamoudou Athie (Hal Dockins), Pamela Reed (Annette O'Keefe), Alan Ruck (Mike Allred), Amanda Warren (Gloria Gary), etc. have played their roles perfectly. In case, you a fan of Tommy and Jamie, then it is a must-watch.
The conclusion
All in all, this courtroom drama delves into the issues afflicting the capitalist systems that exploit the financially weaker people, the race relationships, the class divide, the cheating, the corruption, the double standards and much more. We loved its ending. No doubt, 'The Burial' film is both an enjoyable and uplifting legal drama, as it entertains and inspires too.
---
Spoilers alert – ending & key characters of this 2023 Hollywood film
The ending of the movie is explained. And what happened in a real-life.

In the end, after appealing the court verdict, the Loewen Group eventually agreed to a $ 175 million settlement offer to the small-time businessman Jeremiah O'Keefe. Then, two years later, Ray Loewen was forced to resign as President and CEO of his own company – the Loewen Group. Less than a year after that, the Loewen Group filed for bankruptcy.
About real-life hero Jerry O'Keefe

Jerry O'Keefe was a Marine pilot in World War II. He shot down 5 Japanese planes in one day on April 22, 1945. As a result, he became an ace in one day. He shot down 2 more on April 28, 1945. He was awarded the Navy Cross and the Distinguished Flying Cross by the government of the United States.

Also, after the trial, Jerry and Annette created a charitable foundation to benefit the socially disadvantaged. More than 40% of O'Keefe Foundation grants have gone to the Black American community groups, churches, and schools. Bradford-O'Keefe Funeral Homes continues to thrive as the largest family-owned funeral business in southern Mississippi.
About real-life hero Willie Gray

Willie Gray was born amidst poverty as he was a sharecropper in his childhood and growing up youthful years. But then with his intelligence and hard work, he studied law and tasted immense success in the courtroom. He went on to become one of the most prominent trial lawyers in the USA.

He won major judgements against several of America's biggest corporations. These big companies include Anheuser-Busch and the Walt Disney Company. He has been known to refer to himself as "The Giant Killer." By 1996, he had won nearly 60 settlements or verdicts of a million dollars or more in the courtroom. So, he lives in a mansion and flies in a Gulfstream jet – he leads a life of style and opulence.
About Jeremiah Joseph O'Keefe's and Willie E. Gary's friendship

It is an amazing coincidence, that the real Jeremiah Joseph O'Keefe and the real Willie E. Gary were born on the same date (July 12). Willie and Jerry remained close friends until the time of Jerry's death in August 2016. The real Willie Gary makes a cameo appearance in a scene during the end credits.
---
Key details of this 2023 Hollywood film
| | |
| --- | --- |
| Genre | Drama |
| Original language | English (USA) |
| Age-restrictions | A (18+) |
| Released in | October, 2023 |
| Duration | 2 hours 6 minutes |
| Writers | Maggie Betts, Doug Wright & Jonathan Harr |
| Director | Maggie Betts |
| Cast | Tommy Lee Jones (Jeremiah O'Keefe), Jamie Foxx (Willie Gary), Jurnee Smollett (Mame Downes), Mamoudou Athie (Hal Dockins), Pamela Reed (Annette O'Keefe), Bill Camp (Ray Loewen), Alan Ruck (Mike Allred), Amanda Warren (Gloria Gary), etc. |
| Award | Palm Springs International Film Festival – 2023 Winner Directors to Watch – Maggie Betts |
| Taglines | Never Settle |
| Network | Amazon Studios |
About – The Burial (2023) film.
---
Poster of this 2023 Hollywood film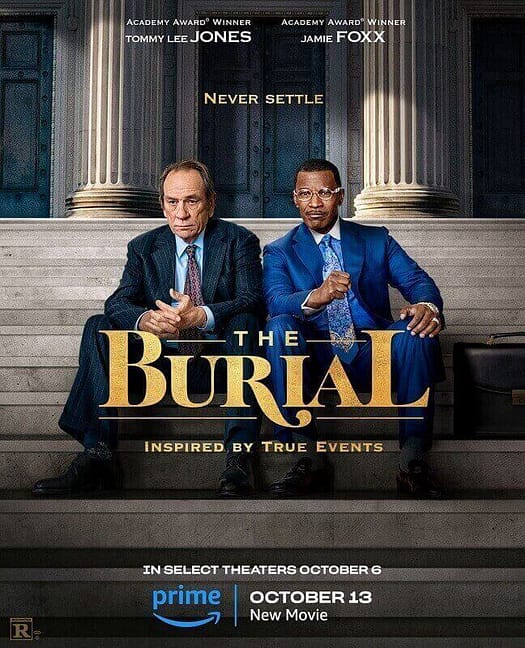 FM rating of this 2023 Hollywood film
| | |
| --- | --- |
| FM's rating | 3.85/5 |
| FM's short comments | This feel-good film holds its viewers' attention because of its inspirational tale and good acting by its two lead actors and others. |
Rating – The Burial (2023) film.
---
Trailer of this 2023 Hollywood film
If you like this legal drama from the United States of America, then go ahead and check out 'The Lincoln Lawyer' series, too.
Featured Image and Poster of The Burial (2023) Movie | Amazon Studios.
---