Fukrey 3 is a Hindi-language film from India. This movie is a lewd, chaotic and wild comedy. It seems the masses have liked this so-called funny film, as it has become a hit in India.
A word of caution perhaps to you all. Although we do not like its content, on the other hand, the public has loved it. Its box-office collection has already crossed Rs. 90 crores in India.
---
Synopsis (summary) of this 2023 comedy film from India
The friends – Hunny (Pulkit Samrat), Choocha (Varun Sharma) and Lali (Manjot Singh) face disastrously funny situations together and have each other's backs through the trenches to make it out of a new mess this time. Also, key characters like – Bholi Punjaban aka Phool Kumari Sehgal (Richa Chadha) and Pandit Ji (Pankaj Tripathi) add to the confusion and hilarious situations in this comedy drama.
---
Spoilers-free review of the Fukrey 3 (2023) film
The setting & content of its tale
The setting of the film is Delhi, the historic capital city of India. Its story also focuses on the local issues of water shortage and water mafia in Delhi, operating with impunity on both sides of the Yamuna (Jamuna) river. Then it adds a scatological subplot to its storyline, and that dirty urine and smelly sweat contaminated the entire slapstick comedy film for us.
Our tastes and preferences do not allow us to see and enjoy such a kind of film. Still, we carried on, for the sake of our readers. And it seems, many people have enjoyed it. However, we did not like the central theme of its story. Specifically all those scenes in which its basic comedy is based on scatological content. That is a coarse and low-brow tale.
About Fukrey & Fukrey Return films
In the past, we have enjoyed the Fukrey and Fukrey Return films from the same movie franchise. In case, you have not seen them, then check out their respective trailers.
Fukrey movies franchise - their video links on YouTube platform are as under.

1. Fukrey (2013) Film - trailer

2. Fukrey Return (2017) Film - trailer

3. Fukrey Recap (2023) Film - clip

To get the fair idea about the key chracters in these films, do checkk them out before watching this latest 2023 film. 
Tale of Fukrey 3 film
Now, let us get back to the story of the latest 2023 Fukrey film. In it, the team Fukrey consisting of Choocha (Varun Sharma), Hunny (Pulkit Samrat) and Lali aka Sardar Ji (Manjot Singh) join Pandit Ji (Pankaj Tripathy) to manage a departmental store business. The said departmental store was awarded to them by the government. However, they fail to get customers and with not much earning, all of them continue to struggle in their lives.
On the other hand, Bholi Punjaban aka Phool Kumari Sehgal (Richa Chadha) is trying very hard to shed her shady and criminal past behind. So, it is no wonder, that she joined a political party to contest the forthcoming elections in the Delhi region. Harbouring a very high hope, she wishes to become a minister, so seeks the support of team Fukrey.
Instead, Fukreys decides to field popular and much loved Choocha in the electorate field against Bholi as a candidate. And then the frictions and complications arise in the lives of both Bholi and the Fukreys. The twin issues of severe water shortages and the water tanks mafia operating in Delhi became a key issue in the said election.
Then there is the ludicrous sub-plot of Fukreys being able to make and produce Petrol using their piss and sweat, as the Petrol is made up of hydrocarbons. But, then many people found this segment of the story funny. So, we do not wish to add any more comment to it. However, not everything is bad in this film.
About the actors & the conclusion
The South African trip undertaken by Fukrey is the highlight of the film. We liked the African characters, especially the two henchmen of Bholi – Sani Ahmed (Bobby) and Michael Havens (Eddy), they did well in this Hindi film. Even, Natasha Kamwenje (Mombasa) is impressive in it, as she plays a love-struck character in a fun way.
It is a really bad filmy situation when a talented bunch of actors – Richa Chadha, Varun Sharma, Pulkit Samrat, Manjot Singh, Pankaj Tripathy, Manu Rishi Chadha, etc. have been let down by a poor-quality script. These actors have proven their talent in the past movie instalments of Fukrey.
So, hopefully, they will much better script to display their acting talent in future. We can only pray that we do not get a similar sort of indecent and atrocious Fukrey film by the Excel Entertainment team. We are keeping our fingers crossed for the future of the Fukrey movie franchise.
---
Poster of this 2023 comedy film from India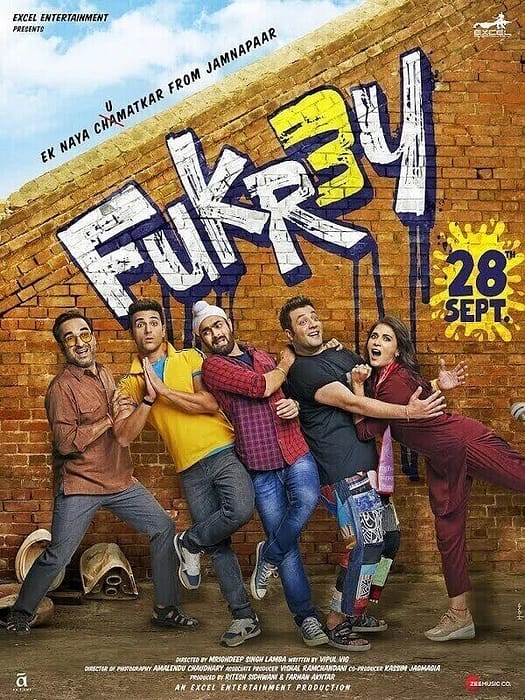 ---
Key details of this 2023 comedy film from India
| | |
| --- | --- |
| Genre | Comedy, Crime, Drama, |
| Original language | Hindi (Fukrey means slackers) |
| Released in | September 2023 |
| Duration | 2 hours 27 minutes |
| Writer | Vipul Vig |
| Director | Mrighdeep Singh Lamba |
| Cast | Richa Chadha (Bholi Punjaban aka Phool Kumari Sehgal), Varun Sharma (Choocha aka Dilip Singh), Pulkit Samrat (Hunny aka Vikas Gulati), Manjot Singh (Lali Halwai), Pankaj Tripathy (Pandit Ji), Sani Ahmed (Bobby), Michael Havens (Eddy), Manu Rishi Chadha (Shinda), Natasha Kamwenje (Mombasa), Ali Fazal (Zafar – guest appearance), etc. |
| Distributor | Excel Entertainment |
About – Fukrey 3 (2023) film.
---
Trailer of this 2023 comedy film from India
---
Rating of this 2023 comedy film from India
| | |
| --- | --- |
| FM's rating | 3.00/5 |
| FM's short comment | We just hope and wish that Excel Entertainment will spare us such inane comedy in future. But, that seems unlikely given the fact that it is a hit. |
Rating – Fukrey 3 (2023) film.
If you like to watch a good quality comedy film from India, then go ahead and check out the FM article on the Kathal (2023) movie, too.
Featured Images and Poster of Fukrey 3 (2023) film | Excel Entertainment.
---