The Wire – this American crime drama TV series is considered one of the greatest TV series of the 21st century by the BBC. When I saw it for the first time, I was amazed by its raw and honest portrayal.
Like any great novel, this series too has unimaginable layers and depths of storytelling. The Wire series delves into the themes of the drug crisis as well as the social and economic inequities prevalent in American society.
The Wire is about everyday life in an urban setting in the United States of America.
---
The Wire Series:- synopsis & poster
In the city of Baltimore, there are good guys and there are bad guys. Sometimes you need more than a badge to tell them apart. This highly realistic and totally unvarnished drama series chronicles the vagaries of crime, law enforcement, politics, education and media in Baltimore as it follows a team of cops and the criminals they are after.
…..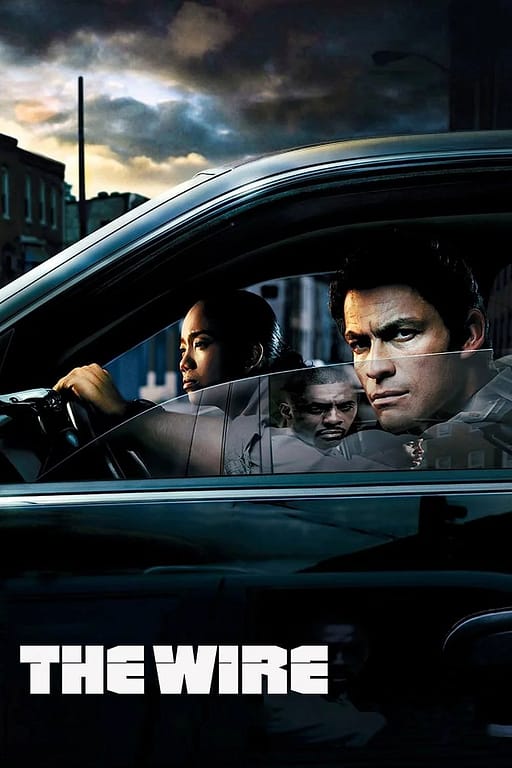 ---
The Wire Series:- a spoiler-free review in brief
Although I wish to tell you its storyline in detail here, however, it may spoil the unexpected surprises that this slow-burn TV series has in store for its new viewers. So, I shall disclose only those particulars that its creator (s) have shared with the public. This drama series is set in Baltimore City – where drug-related crimes thrive and the political (and police) systems are considered to be broken.
To be honest, I had seen The Wire series years ago, and still, I cannot forget its intricate and detailed look at American society, using the city of Baltimore as a backdrop. With so much depth and understanding, it created some of the best characters that we have seen in a show. Not very often, do we come across an honest and blunt take on the ills plaguing contemporary capitalist societies. The inequities and injustices meted out to the economically weaker sections of society are heart-rending.
It touches upon controversial subjects – race, class, politics, corruption, power, crime, policing, education system, etc. with unusual panache. Its brilliant script backed by its superb ensemble cast has made this series – one of the best dramas of all time. And how great are the other actors in this series? According to me, almost all of them are terrific. You just have to see it to believe it.
Supposing that you love a good piece of literature, then The Wire is a must-watch drama series, that will be difficult to put down, once you pick it up and start it. I reiterate – The Wire is highly recommended to you all.
---
Focus:- series creator David Simon talks about it
Here is what David Simon, the creator said about the storyline and the content of The Wire series, to quote him, "It's a proverbial tale of two Americas."
America is a country that is now utterly divided when it comes to its society, its economy, its politics. There are definitely two Americas. I live in one, on one block in Baltimore that is part of the viable America, the America that is connected to its own economy, where there is a plausible future for the people born into it.

David Simon
---
The Wire Series:- season 5 – official trailer
---
The Wire Series:- when President Obama praised it
US President Barack Obama chatted about the challenges law enforcement face with the creator of The Wire – David Simon. In this video, President admitted that he was a huge fan of 'The Wire'; it is like a work of art.
I'm a huge fan of "The Wire." I think it's one of the greatest not just television shows but pieces of art in the last couple of decades. I was a huge fan of it.

~ Barack Obama } Youtube video
So, the US President (at that time) also approved it.
---
The Wire Series:- its most iconic dialogues/video
Take a peek into the lives of some of the very well-written characters in The Wire series. These are some of the best dialogues/lines from the show in this video.
A life, Jimmy, you know what that is? It's the shit that happens while you're waiting for moments that never come.

Detective Lester Freamon ( played by Clarke Peters)
This is one of the lines that liked in this serial.
---
The Wire Series:- a few more key details
Genre
Crime, Drama, Thriller
Creator
David Simon
Seasons
Five Seasons (2002-2008)
Episodes
Sixty (60) – (S1-E13), (S2-E12), (S3-E12), (S4-E13) & (S5-10)
Taglines
Listen carefully (season 1)
A new case begins… (season 2)
Rules change. The game remains the same. (season 3)
No corner left behind. (season 4)
All in the game. (season 5)
Cast
Dominic West, John Doman, Frankie R. Faison, Wood Harris, etc.
Awards
The Peabody Awards – Stories That Matter (2004)
Casting Society of America, USA – Best Casting for TV, Dramatic Pilot – Alexa L. Fogel & Pat Moran (2003)
AFI Awards, USA – TV Program of the Year (2004, 2007, 2009)
ASCAP Film and Television Music Awards – Top TV Series (2004)
Edgar Allan Poe Awards – Best Television Feature/Mini-Series Teleplay (2007)
Crime Thriller Awards, UK – Best International TV Drama (2008)
Television Critics Association Awards – Heritage Award (2008)
Writers Guild of America, USA – Dramatic Series – Ed Burns, Chris Collins, Dennis Lehane, David Mills, George Pelecanos, Richard Price, David Simon, William F. Zorzi (2008)
Crime Thriller Awards, UK – Best Leading Actor – Dominic West (2009)
Directors Guild of America, USA – Outstanding Directorial Achievement in Dramatic Series –
Daniel Attias, Nina K. Noble, Eric Henriquez, Xanthus Valan, Timothy Blockburger (2009)
Irish Film and Television Awards – Best Actor in a Lead Role in Television – Aidan Gillen (2009)
Online Film & Television Association – OFTA TV Hall of Fame – Television Programs (2018, 2019)
About – The Wire
---
Focus:- actor Lance Reddick, #RIP
With the recent passing of Lance Reddick, who played the role of Police Chief in this series, I was reminded of his imposing presence in it. He is a well-known musician and actor known for the John Wick movies.
Some of his well-known series are – Oz (1997), Law and Order: Special Victims Unit (2000-2001), Law and Order (2000-2004), The Wire (2002-2008), Lost (2008-2009), Fringe (2008-2013), Bosch (2014-2021), etc.
---
The Wire Series:- FM, IMDb & Rotten Tomatoes ratings
| | |
| --- | --- |
| FM's rating | 4.75/5 |
| IMDb rating as of the date | 9.30/10 |
| Overall Rotten Tomatoes ratings as of the date | 94% Tomatometer & 96% Audience Score |
FM, IMDb & Rotten Tomatoes ratings – The Wire
…..
The Wire Series (seasons 1 to 5):- detailed review by the Rotten Tomatoes
Season 1 (2002)
86% Tomatometer & 96% Audience Score
Critics Consensus: Though it takes its time getting started, The Wire is worth the wait, spinning a connective web of characters and delivering no-holds-barred commentary on some of America's unsettling societal problems.
Season 2
(2003)
95% Tomatometer & 94% Audience Score
Critics Consensus: An ambitious introduction to a new network of characters allows The Wire to expand its focus on societal ills.
Season 3
(2004)
100% Tomatometer & 96% Audience Score
Critics Consensus: In its third season, The Wire's taut, unflinching examination of Baltimore expands from the criminal underworld to the top of the political machine.
Season 4
(2006)
100% Tomatometer & 98% Audience Score
Critics Consensus: Realistically flawed characters in harrowing, uncompromising circumstances, along with engrossing storytelling, make The Wire one of TV's top dramas of its time.
Season 5 (2008)
93% Tomatometer & 95% Audience Score
The Wire goes out with a suitably resonant bang in its final season, craftily manoeuvring venturesome motifs and a colourful cast of characters to skilfully understated conclusion.
Detailed review by the Rotten Tomatoes – The Wire.
---
Featured & Other Images: The Wire | Facebook & HBO.
---