Evil Dead Rise is the latest horror movie, attracting many cinema fans to the theatre. This 2023 horror film belongs to the classic supernatural horror franchise started by the original 1981 film "Evil Dead" movie.
The original Evil Dead movie was written and directed by Sam Raimi and we have shared its trailer at the end.
Originally this movie was meant to be released exclusively through direct-to-streaming, but during its test screenings, it performed so well that its producers decided to release it theatrically instead.
---
Table of Contents
---
Evil Dead Rise (2023) Movie:- details
| | |
| --- | --- |
| Genre | Horror, Fantasy, Mystery, Thriller |
| Taglines | Mommy loves you to death. |
| Age-restrictions | A (18+) |
| Released | April 2023 |
| Writer & Director | Lee Cronin |
| Cast | Mirabai Pease, Richard Crouchley, Anna-Maree Thomas, Lily Sullivan, etc. |
About – Evil Dead Rise (2023) film.
---
Evil Dead Rise (2023) Movie:- synopsis
Moving the action out of the woods and into the city, this film tells a twisted tale of two estranged sisters, played by Sutherland and Sullivan, whose reunion is cut short by the rise of flesh-possessing demons, thrusting them into a primal battle for survival as they face the most nightmarish version of family imaginable.
---
Evil Dead Rise (2023) Movie:- poster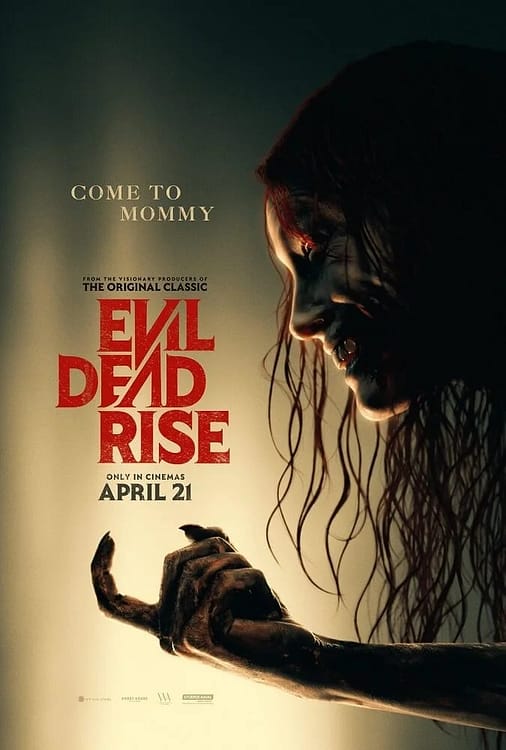 ---
Evil Dead Rise (2023) Movie:- spoilers free brief review
When we (me and my team) watched this new horror movie on a big screen on a night show, we liked its content. And even at those odd hours on a weekday, horror movie aficionados were present in good numbers. Like us, many of them loved the idea of getting and feeling scared while viewing this eerie film. However, some of them found blood, gore and violence a little too much unpalatable. Strictly speaking, this movie is not for the faint-hearted, but only for the die-hard horror fans.
This may be an unpopular opinion, so kindly do not take it to heart. Anyway, I have already told you that I liked this movie, but I loved the iconic "Evil Dead" movie more. For us, the old is still the gold.
---
Evil Dead Rise (2023) Movie:- trailer
---
Evil Dead Rise (2023) Movie:- ratings
| | |
| --- | --- |
| FM's rating | 3.50/5 |
| IMDb rating as of the date | 7.20/10 |
| Rotten Tomatoes ratings as of the date | 84% Tomatometer & 78% Audience Score |
| Critics Consensus / Rotten Tomatoes | Offering just about everything longtime fans could hope for while still managing to carry the franchise forward, this film is all kinds of groovy. |
FM, IMDb & Rotten Tomatoes ratings – Evil Dead Rise film
---
The Evil Dead (1981) Original Movie:- classic trailer
The new 2023 Evil Dead movie is a good stand-alone option, but its comparison with the original "Evil Dead" movie is inevitable. So, to all the horror movie fans, I humbly suggest that watch the original too.
The Evil Dead film synopsis: Gory comic horror tale about a couple who accidentally summon up an evil force when they venture to a remote log cabin in the woods. Forced to decapitate his possessed girlfriend, the man finds his escape blocked and, as night falls, he must battle not only the evil force and a killer hand, but his sweetheart's undead body as well. 
Here is the trailer for the same.
We like the original "The Evil Dead (1981)" movie more, what about you all? Still, this latest (2023) version of the Evil Dead movie is worth a watch.
And if you like watching the Horror movies like these ones, then check out the Scream VI (2023) movie, too.
---
Featured & Other Images: Evil Dead Rise | New Line Cinema, Renaissance Pictures, Warner Brothers Pictures.
---