Dark Winds series, this Native American crime thriller is set in the 1970s Southwest region of North America. It is a tale about the murder investigation case being carried out by the two Navajo Tribal police officers.
While chasing the elusive murderer (s), both of these Native American tribal police officials (Joe Leaphorn & Jim Chee) are forced to challenge their own spiritual aboriginal beliefs when they investigate homicide cases.
---
Table of Contents
---
Dark Winds (S1/2022) Series:- key details
| | |
| --- | --- |
| Genres | Crime, Drama, Thriller, Mystery |
| Creator | Graham Roland |
| Age-Restrictions | A (18+) |
| Released | June 2022 |
| Cast | Zahn McClarnon, Kiowa Gordon, Jessica Matten, Elva Guerra, Deanna Allison, etc. |
About – Dark Winds.
---
Dark Winds (S1/2022) Series:- synopsis
Set in 1971 on a remote outpost of the Navajo Nation near Monument Valley, it follows Lieutenant Joe Leaphorn (Zahn McClarnon) of the Tribal Police as he is besieged by a series of seemingly unrelated crimes. The closer he digs to the truth, the more he exposes the wounds of his past.
He is joined on this journey by his new deputy, Jim Chee (Kiowa Gordon). Chee, too, has old scores to settle from his youth on the reservation. Together, the two men battle the forces of evil, each other and their own personal demons on the path to salvation.
---
Dark Winds (S1/2022) Series:- a spoiler-free review
We learnt the fact, that Joe Leaphorn – played by Zahn McClarnon is half Hunkpapa Lakota and his partner Jim Chee – played by Kiowa Gordon is half Hualapai. Both the Native American tribes – Lakota and the Hualapai are neither ethnically nor linguistically remotely related to the Navajo Native American tribe. Also, Bernadette Manuelito – Jessica Mattenred plays the third Native American police officer, she traces her roots to the Red River Metis-Cree tribe.
However, it must be reiterated that all three actors are good and they have done commendable acting jobs in the show. It is heartening to note that these days the usually ignored and invisible Native American people are getting long-overdue recognition in the Hollywood industry. I like this new positive development, as indigenous people are being able to tell their stories to the world.
This neo-Western drama introduces the elements of Navajo tribe mysticism. Plus, this psychological crime thriller maintains a sense of drama, while also touching upon the sensitive political and social issues of Indigenous people, for instance, the forced sterilization of Indigenous Native American women in the US.
American Doctors began sterilizing indigenous women in the 1930s and grew at a faster rate in the 1970s when Congress passed the Family Planning Services Act, which subsidized said sterilizations for Medicaid and Indian Health Service patients. The rationale for these procedures was centered around fears of global overpopulation and increases in welfare spending which would put an undue strain on the budget of the local community and the Federal Treasury.

WXXI News
Over the years, I have seen a few Native American stories in the Hollywood industry. Windtalkers (2002) movie was one of those movies. In this film, during the Second World War, the Native speakers of the Navajo language conveyed vital military information over the open air in their obscure indigenous language that the Japanese could not decode. Thus Navajo contributed to the successful outcome of the Second World War. This movie has stars like Nicolas Cage and Adam Beach. Hopefully, we shall see Adivasi (native tribal) stories in current Indian movies/series sooner rather than later.
On the other hand, nowadays, we are witnessing a course correction and inclusion of Native American tales in mainstream movies/series, and such steps are praiseworthy. So, I repeat that I highly recommend this crime series set in the 1960-1970s era in the Native American land. Plus you get to learn about the mysterious world of Native American society and the various issues that affect their tribal society. This crime mystery series with only six episodes in season one is perfect for binge watch on any given weekend.
---
Dark Winds (S1/2022) Series:- poster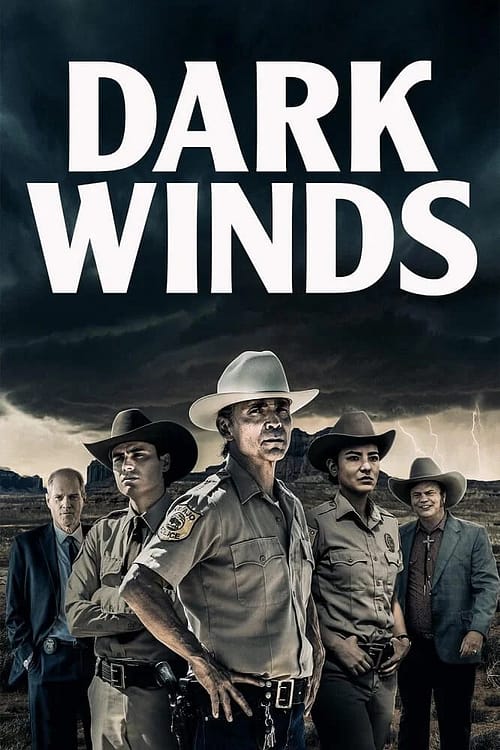 ---
Dark Winds (S1/2022) Series:- ratings
| | |
| --- | --- |
| FM's rating | 4.15/5 |
| IMDb rating as of the date | 7.6/10 |
| Rotten Tomatoes ratings as of the date | 100% Tomatometer & 84% Audience Score |
| Critics Consensus / Rotten Tomatoes | Zahn McClarnon is riveting as a coiled cop in this show, a solid procedural that derives much of its texture from an underrepresented cultural milieu. |
FM, IMDb, & Rotten Tomatoes ratings – Dark Winds.
---
Dark Winds (S1/2022) Series:- trailer
---
If you like the Native American series, then perhaps you can check out the Reservation Dogs series too.
Featured & Other Images: Dark Winds | AMC.
---