Jai Bhim movie is loosely inspired by the real-life court case of Justice Krishnaswami Chandru, who is played by the lead actor Suriya. In this true incident from 1993, the indigenous tribal persons were wrongly arrested.
And then were allegedly tortured by the police in Tamilnadu, India.
Advocate Chandru (in the 1990s) fought for justice in the courtroom, on behalf of arrested indigenous tribal people. In fact, Justice Chandru assisted in developing this case as a documented script for a movie.
---
Table of Contents
---
Focus:- this movie is inspired by a real-life court case
It is worth noting that the real-life court case involving indigenous people and the state police kept on going for more than a decade long period, however, they have reduced this court-case period to approximately a year time in this movie. At the end of the movie, Advocate Chandru manages to get them released from prison. However, one can imagine the plight of innocent indigenous tribal persons, who spent a decade in jail.
This film is not a mere retelling of Sengini's tragic tale, but is more about throwing light on the larger picture of the victimisation of vulnerable communities like the Irula tribe.

In the film, the lawyer tells Sengini to continue fighting the case (even after she knows her husband is dead) because it can prevent another custodial death. At this point, Surya is taking the film to another level. Instead, of making a crime thriller based on one case, the film shows how the Irula (tribal) community is slowly learning to fight back against police atrocities.

Twenty-five years later after the Sengini case, even today, Irula tribals are facing similar attacks all over south Arcot. But the difference is now the Irula tribals are fighting back. If there is an attack on an Irula village, immediately a SC/ST complaint is filed. There are a lot of cases filed against the police for torture and illegal custody.

Justice Krishnaswami Chandru | The Federal
We shared the excerpts from the said article to highlight the harsh ground realities, that exist even today for the indigenous tribal communities of India in 2023.
---
Jai Bhim (2021) movie:- synopsis
A pregnant woman from a primitive tribal community searches desperately for her husband, who is missing from police custody. So as to find her husband and seek justice for them, as their voice, a High Court advocate rises in support.
Will their battle for justice succeed?
---
---
Jai Bhim (2021) movie:- review
This movie is not a typical masala film from India, that allows you to escape the truth of the matter. However, I did not like – this fictional tale (inspired by a true incident in 1990s India) condensed the timeline to a year (from a real period of more than a decade) in this legal drama involving a court case in India. Nevertheless, it seems that the film has taken a few artistic liberties to bring us this important social-political-legal tale.
For the indigenous (tribal/adivasi) people, the ground realities (social-political-legal) have not improved much, even in the new India of 2023. We recommend you all, watch this movie, because of the realistic subject matter, well-written script, and captivating acting by both Lijo Mol Jose and Suriya. It was released on Prime Video in November 2021, and then it received universal acclaim from critics in India.
Later, this film was India's official entry to the 94th Academy Awards (its details shared below) but it failed to make the shortlist. Still, it is an important story of our times.
The team behind this film must be praised for undertaking a journey into the unequal world of Indian society. Applause!!
Watch this film, if you wish to learn about the harsh social realities in the rural areas – the proverbial backyard of India.
Jai Bhim!
---
Jai Bhim (2021) movie:- poster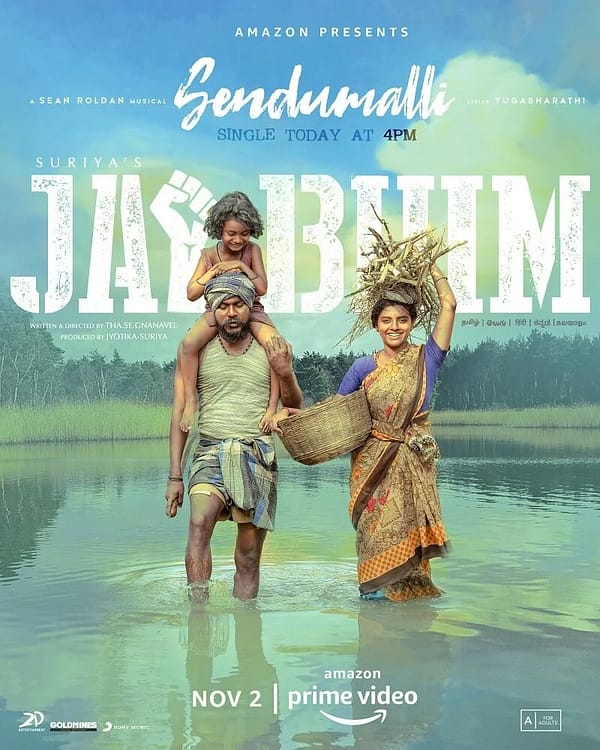 ---
Jai Bhim (2021) movie:- details
Genre
Crime, Drama, Mystery
Original language
Tamil (India)
Released
November 2021
Age-restrictions
A (18+)
Director
T.J. Gnanavel
Writers
T.J. Gnanavel & Rajendra Sapre
Cast
Suriya, Lijo Mol Jose, Manikandan K, etc.
Awards
Filmfare Awards South 2022 – Tamil Film Industry – Best Film – Jai Bhim
Filmfare Awards South 2022 – Tamil Film Industry – Best Actress – Lijo Mol Jose
Ananda Vikatan Cinema Awards 2022 – Best Film – Jai Bhim
Ananda Vikatan Cinema Awards 2022 – Best Actor – Suriya
Ananda Vikatan Cinema Awards 2022 – Best Actress – Lijo Mol Jose
Ananda Vikatan Cinema Awards 2022 – Best Director – T.J. Gnanavel
About – Jai Bhim film.
---
Jai Bhim (2021) movie:- trailer
---
Jai Bhim (2021) movie:- ratings
| | |
| --- | --- |
| FM's rating | 4.35/5 |
| IMDb rating as of the date | 8.80/10 |
| Rotten Tomatoes ratings as of the date | 100% Tomatometer & 100% Audience Score |
| Ranjani Krishnakumar / Rotten Tomatoes | This film is a solid film held together by crafty writing, thoughtful filmmaking, restrained performances and a true incident of the justice system restoring hope. |
FM, IMDb & Rotten Tomatoes ratings – Jai Bhim film.
---
Focus:- India's official entry to the Oscar Awards
TJai Bhim weaves in real case studies helmed by Activist-Lawyer Chandru, who brought justice to indigenous tribes in Tamilnadu through his relentless efforts. Writer-director TJ Gnanavel reveals how the story narrative was formed and executed.

Oscar | YouTube
---
If you like legal courtroom drama inspired by real-life incidents, then check out our FM article about Sirf Ek Bandaa Kaafi Hai film, too.
Featured & Other Images: Jai Bhim film | Amazon.
---