Missing is a captivating hi-tech thriller of our times. We are living in a world populated by tech-savvy people always looking busy while using their smartphones, laptops, smart watches, etc. to access the internet.
Young people are usually busy surfing social media platforms and other networking websites regularly. In times like this, this movie tells a dramatic crime story, wherein a middle-aged mother of a young girl has disappeared into the proverbial thin air. Now, in this contemporary world of information technology, can a Gen Z daughter find her mother using tech in her hands?
---
Table of Contents
---
Missing (2023) movie:- synopsis
When her mother (Nia Long) disappears while on vacation in Colombia with her new boyfriend, June's (Storm Reid) search for answers is hindered by international red tape. Stuck thousands of miles away in Los Angeles, June creatively uses all the latest technology at her fingertips to try and find her before it's too late. But as she digs deeper, her digital sleuthing raises more questions than answers…and when June unravels secrets about her mom, she discovers that she never really knew her at all.
---
Missing (2023) movie:- a brief review
A few years ago, we saw a similar dramatic thriller movie called "Searching" (2018) movie which incidentally used a similar kind of modern tech-oriented story-telling method. In that film, a father searches for his lost teenage daughter. So, we decided to take a closer look at both – Missing and Searching movies. Then we discovered that these movies have come from the common same set of people and producers.
No wonder, not only the basic theme ideas are similar but also the picturisation and visualisation of these two movies. In addition, the following facts will be appreciated by the tech-savvy audience who have seen both the movies mentioned herein.
In the Searching film, you people might have observed that the online search has been conducted on both Mac and Windows operating systems (OS) throughout the film.
However, in the Missing movie, one might notice the online search is all done only using Mac OS. These two movies have kept pace with the latest technological advancements besides maintaining the consistency between these user interfaces.
However, it is worth mentioning that this particular movie is a standalone independent sequel to the original Searching film. Interestingly, this film starts with docu-drama footage based on the events of the previous film. Despite its apparent flaws, this movie is an engrossing thriller that uses modern technological tools available online to enable a tech-savvy teenage daughter to search for her mom.
Like a good mystery, you will keep trying to guess the fate of a mother, who has disappeared into the proverbial thin air. And this will keep you interested.
---
Missing (2023) movie:- details
| | |
| --- | --- |
| Genre | Drama, Thriller, Mystery |
| Released | January 2023 |
| Age-restrictions | PG-13 |
| Writers | Will Merrick, Nicholas D. Johnson, & Sev Ohanian |
| Directors | Nicholas D. Johnson & Will Merrick |
| Cast | Storm Reid, Nia Long, Tim Griffin, Joaquim de Almeida, etc. |
About – Missing film.
---
Missing (2023) movie:- poster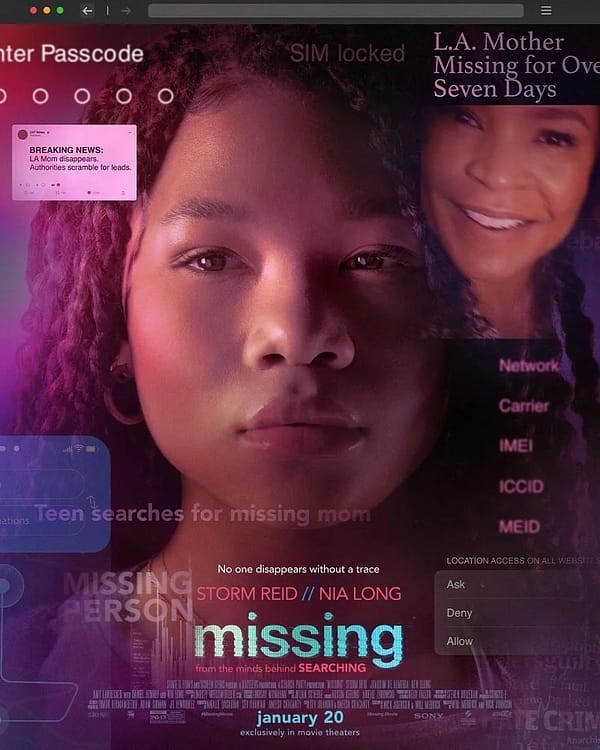 ---
Missing (2023) movie:- ratings
| | |
| --- | --- |
| FM's rating | 3.75/5 |
| IMDb rating as of the date | 7.20/10 |
| Rotten Tomatoes ratings as of the date | 87% Tomatometer & 90% Audience Score |
| Critics' Consensus / Rotten Tomatoes | This film can strain credulity in its efforts to keep the audience guessing, but a fast pace and relatable fears keep this twisty techno-thriller from completely losing its way. |
FM, IMDb & Rotten Tomatoes ratings – Missing film.
---
Missing (2023) movie:- trailer
---
If you like this suspense movie from the USA, then check out the FM article about another suspense thriller To Catch A Killer film, too.
Featured & Other Images: Missing film | Sony.
---